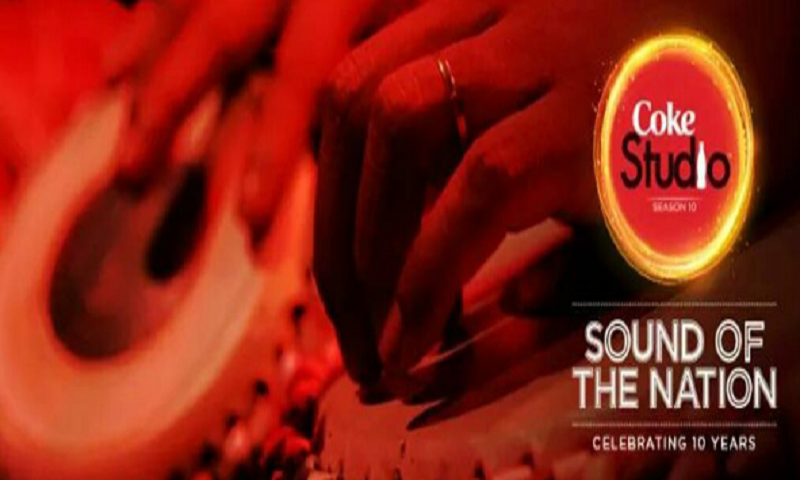 This season also aims to celebrate 70 glorious years of Independence.

It's been 10 glorious years of Coke Studio and what a massive, expressive and magnificent journey it has been. From pop to rock, to classical and fusion, Coke Studio, has uncovered the sounds of this nation in its truest essence, completing a full decade this year. Coke Studio season 10 will aim to celebrate not only its journey of a decade but also 70 glorious years of independence, 70 years to the creation of our homeland, 70 years of Pakistan!
Ten years ago, when the music of the country was suffering without a proper platform, Coca Cola Pakistan bore upon itself the responsibility of discovering the sound of the nation by creating a perfect fusion of music that was truly inspired by the cultural heritage of Pakistan. From there on emerged, Coke Studio, a platform that not only gave birth but also focused on celebrating true music talent from around the country, an achievement in itself. But what was a bigger achievement was the fact that Coke Studio Pakistan began to penetrate global music industries, giving them an insight on the musical heritage and future of Pakistan.
And so, amongst a star studded event in Karachi, launched the first episode of Coke Studio season 10, marking the beginning of a sensational musical journey we'll enjoy for the upcoming seven weeks.
Today, when we're celebrating 70 years of independence of our homeland, Coke Studio wants to take an initiative and pay 7 tributes to 7 artistic legends of the country who have contributed immensely to preserving the heritage and folk culture of this country we call home.
Ali Sethi, performed in the first episode of season 10 and his beautiful tribute to Mehdi Hasan with Ranjish Hi Sahi, gave us goosebumps. The rendition was exotic, there was nothing ordinary about it. As nervous as Sethi, seemed to be during the episode launch yesterday, his performance with Ranjish Hi Sahi, put all his doubts to rest. Even though tribute to Mehdi Hasan, Ali Sethi managed to add his touch of individuality to Ranjish Hi Sahi and we absolutely loved it.
This season will celebrate the undeniable contributions these legends have made to the progress of Pakistani music and its preservation and growth. Heartfelt tributes will be paid to the legends; Madam Noor Jehan, Master Inayat, Begum Akhter, Nusrat Fateh Ali Khan, Mehdi Hasan, Baray Ghulam Ali and Faiz Ahmed Faiz.
The first episode of the season also marked a heartfelt performance by the sensational Momina Mustehsan and the cutie Daniyal Zafar. We loved thier original track, Muntazir, which spoke of unsaid promises of young love and the pining that accompanies love. Muntazir, composed and written by Strings, was a beautiful original, making us fall in love with the simplicity of the song right at the launch. The song is also trending on no.2 on YouTube since yesterday.
Another song from first episode features Shafqat Amanat Ali and Ahmed Jahangzeb in Allah hu Akbar, and what a beauty it was. You'll be mesmerized by the vocals, the music arrangements and the lyrics of this piece. Allah Hu Akbar is what sheer musical beauty is and we're guessing it to be the next Tajdar-e-Haram for this season.
The last was Hina Nasrullah & Amanat Ali's, Chaa Rahi Kaali Ghata. The jugulbandi of this duo will leave you in awe of the amazing notes Hina Nasrullah can take and how well Amanat Ali matches her for each one. You'll be blown away with this thunderous peformance for sure.
So take your seats people and joing us as we witness our artists creating magic with their voices and instruments and relive the contributions our legends have made to the music of our country, with Coke Studio 10. A journey of a lifetime this will be.