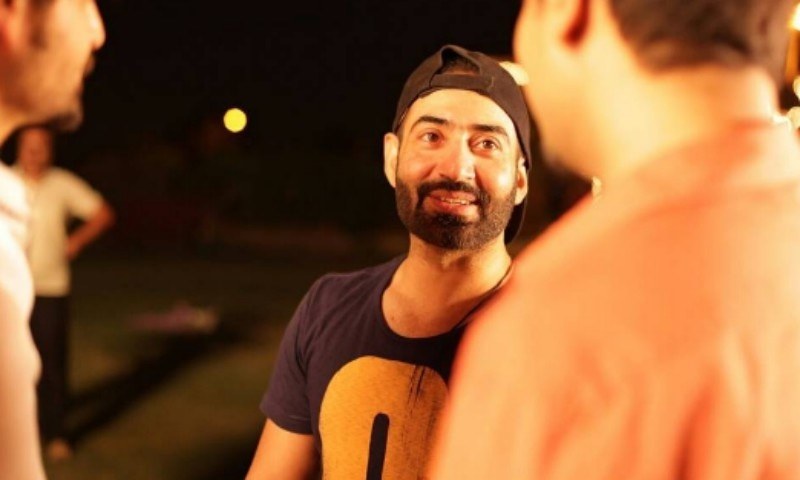 Here's a tête-à-tête with the exceptional Nadeem Baig, prior to 'PNJ' hitting the cinema screens this Eid!

Director Nadeem Baig is all set to uncover a gamut of feelings onscreen with his latest venture Punjab Nahi Jaungi and naturally the entire industry is excited. Being declared as one of the biggest films to come out of Pakistani film industry this year, and a probable hit even prior to its release, the hype is building and the entire industry is excited. Advance bookings are in full swing and it seems like PNJ will definitely make history and so, it's natural that we talked to the man of the moment, Baig, about the creation of the masterpiece we're all expecting the film to be.
Starring Mehwish Hayat, Humayun Saeed and Urwa Hocane in titular roles, PNJ offers a stellar star cast. It also features a few actors Nadeem has already directed before. The audience and we want to know if Nadeem's playing safe, using the old world technique of repeating a hit pair again and again on screen. Is he afraid of taking risks, casting a new pair, in this industry that's enroute revival?
Also Read: Amidst promotions, Humayun Saeed celebrates his birthday in Punjab!
Nadeem puts our doubts to rest by declaring how Iman Ali had been approached for Mehwish's role in the movie initially. He tells us things had been finalized but somehow the director-actor chemistry didn't work well with the Khuda Kay Liye-famed diva. Being an old friend, Iman needed to show trust in the vision Baig had with the film, but it seemed the other way round. Iman, thoroughly and insistently doubtful, parted ways even before the film hit the floors and that's how Mehwish came into the picture.
"I'm very much glad to have casted Mehwish as my leading lady. She's been exceptional. I'm repeating the pair, yes, but they look wonderful together and my friends told me once that if a pair looks good onscreen, the audience has this thirst to see more of them together. People would love to see Anmol and Mohid (from Dillagi) together again and so here we are. And I'm definitely experimenting with the cast too," Nadeem clears the air about not taking risks with his actors.
So will it be Anmol and Mohid all over again? We've seen the promos for PNJ and we've already seen how the two journey through hate, discovering love along the way and pledging to be by each other's side forever in Dillagi. Is PNJ repeating the same story, considering it's also been penned by Khalil-ur-Rehman Qamar, albeit different settings and genre but with the same crux?
Nadeem laughs. "Watch PNJ and you'll be certain within the first few seconds there is no similarity with Dillagi. You see there aren't many twists and turns in a love story, a man has to give in to the girl eventually. Mohid was a different being. He was irrevocably in love with Anmol. He closed his eyes for what she chose to do, but this Humayun as Fawad Khagga in PNJ will be different. He's an arrogant man, insistent on winning his girl but on his own terms. The similarity ends at the lead pair. This will be a different journey and a different story altogether."
Also Read: Urwa Hocane & Farhan Saeed return with Nadeem Baig's next
Baig's films and his serial explore love in its raw essence. Jawani Phir Nahi Ani, an out and out comedy, still focused on relationships. Is Nadeem a romantic at heart, since his direction comes out effortlessly onscreen? Is it always easy for him to define love and its demands to his actors?
This takes Nadeem back for a second. He mentions we've asked him a rather difficult question, because he for one cannot really define love in a single sentence. Nadeem expresses how he thinks love for him is the name of complete surrender. One cannot be his own self and fall in love. Love for him means to give in entirely and that's what he tells his actors to bring out on the screen when working in front of the lens, he tells us.
With a man with such beautiful explanation for love, we cannot refrain from asking if that's the reason Nadeem's female protagonist characters being strong always. Does that mean Nadeem's characters, especially the female leads, have to be strong, and not only eye candy for his movies? We've seen Anmol, we're seeing Amal (in PNJ), is that a conscious thought?
Nadeem is quick to answer this one. "I've always held the females in my life, be it my mom, my wife, my daughter, as decision makers. I want them to take the final decision. Of course I chip in my feedback but it's up to them. Honestly, I don't like women weak. I don't like them crying. And yes, so my characters are inspired by this conscious thought."
Also Read: ARY Family Welcomes Humayun Saeed & Nadeem Baig On Board
He further adds, "This has taken me back to the times of Pyare Afzal. The script and the recording went hand in hand so the actors didn't know what would go on next until they had the script. I was shooting with Ayeza and she would question me all the time, asking if Farah really loved Afzal, because she was such a strong character, it never really came clear if she loved Afzal or not. So yes, I will confirm that my strong female characters are a conscious decision; one that I very much like."
With that we wrapped up our sessions with Nadeem, but not before we wished him all the very best for his upcoming venture that sees the light of the day this Eid-ul-Adha. The director knows his product and therefore is certainly confident about the prospective outcome for PNJ. We, on the other hand, are excited to say the least and can't wait to bring you the review for the film.