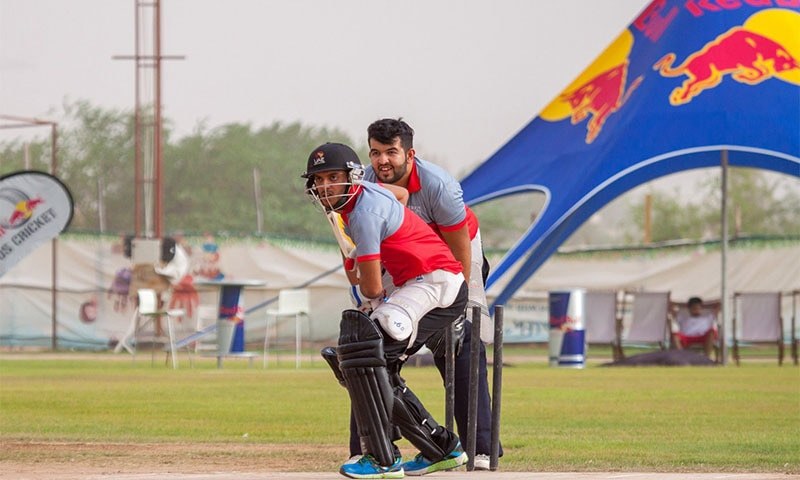 At the Red Bull Campus Cricket Champion, college teams get a chance to represent their country internationally.

As I walked towards the stadium, I dreaded the 'DHA' security check. To my surprise it took only 30 seconds or so. Things only got better from there. There was slight drizzle around but not strong enough to take the players off the field. I have seen the Moin Khan Academy Ground a fair few times on TV but not in person. It found it, beautiful and a picturesque setting. The blues of Jinnah College and the reds of UCP blended in the lush green field. Considering myself a serious cricket follower, I took a seat at a distance from the crowd. Soon, that area of the seating was filled too. It was fun then too, a different type of fun.
Red bull Campus Cricket Champion is an event where College teams get a chance to represent their country in international championship. This year's champion's Jinnah College will represent Pakistan in Sri Lanka. In yesterday's final Jinnah College laboured their way to 107 in the allotted 20 overs. Araslan Bashir top scored with 38 as Hanif Azad provided support with 18 runs. On a wicket which was assisting the bowlers Mehran Asfand was the top wicket taker from UCP 11. UCP's batting while chasing was subdued. With a much larger crowd in audience UCP batsmen were put under pressure and could not respond. Until the 17th over which went for over 10, UCP were merely trying to survive. With excellent death bowling from Pakistan U-19 star Hasan Mohsin, Jinnah College restricted UCP's efforts to 96.
The result was important as it decided which team would go to Sri Lanka. However, as a neutral (largely neutral, despite my Karachi bias), it was about watching the talent on display and the chance for them to play while the camera rolls and the pressure was on. It was a thrilling experience and I genuinely felt invested in the success of the teams. It was a entertaining Saturday night out for me over the long weekend (thanks Mr Calendar). I am sure it was fun for all in attendance. To sum up it was a exciting event and due congratulations to the Red Bull Campus Cricket Champions, Jinnah College. Do us proud in Sri Lanka boys!