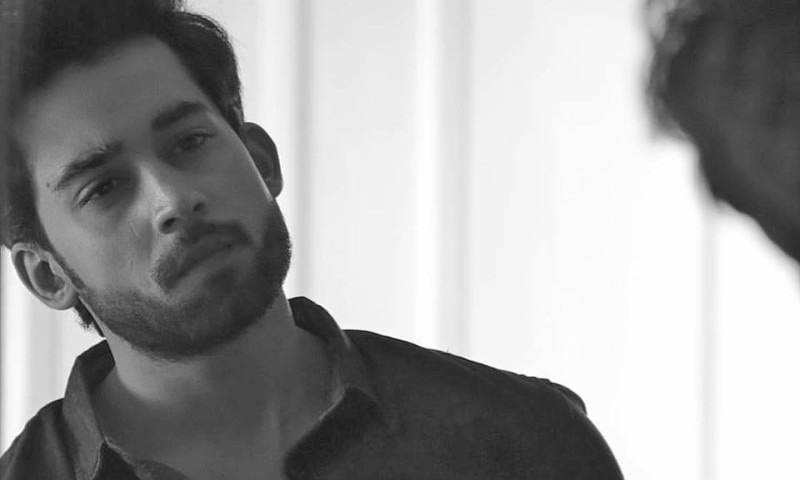 Perhaps the best thing to have come out of Thora Jee Le, Bilal Abbas Khan wants you to know he's more than the boy-next-door you might mistake him for. Even though it's only been a year since he got his big break with the critically acclaimed serial, Dumpukht, Khan has extensive theatre exposure, and happens to be a National Academy of Performing Arts (NAPA) graduate.
To him, the medium of art at which he performs doesn't matter, he follows the path his heart guides him to and thoroughly enjoys the ability of evoking emotion in his viewers, being an actor. He's zealous, pragmatic, slightly modest and above all, he's here to stay. HIP catches up with the budding actor on his road to stardom, horrendous debut film and successful television outings. Read on:
Also Read: Actors that will make it big in 2017
HIP: Do you think you regret doing Thora Jee Lay?
Bilal Abbas Khan: I actually don't. It's a part of me and it was a good experience. I think nobody would regret doing a project on the basis of whether it was a hit or flop. Generally also, I think cinema is an establishing industry in Pakistan, we only have a handful of box office successes. One thing that I've now realized is that, I'm very selfish and conscious as an actor, I hope I eventually get to do another film, but I know it won't be anytime soon.
HIP: You've done really well considering how Thora Jee Le couldn't perform at the box office. How does that feel?
BAK: I think I've been very fortunate, I never expected what I've gotten. When I came to know that the film didn't work, I did naturally go through complexes and insecurities. But I guess there are things that are meant to be, no matter what one plans. I remember Abdullah Seja (CEO, iDreams Entertainment) saw the film and told me he liked my work. I always knew I will get work, one way or the other. I knew I'd never give up.
HIP: Speaking of your latest endeavor, O Rangreza, tell us a bit about what you've taken back from the project?
BAK: I think O Rangreza has contributed a lot to my work. I think there's always great learning when you work with great actors. I got the opportunity of working with Sajal (Aly) and Nauman (Ijaz), they know their craft so well, and every day I learnt something from them. From whatever little I've done so far, I've noticed that I need my own creative space, freedom to essay my character the way I've conceived it.
But then I also take constructive guidance from the director very seriously. At times the briefs I was given bypassed my understanding of the scene. So I try to keep a moderate balance and my director, Kashif Nisar let me do that.
HIP: How welcoming (or crude) do you think the industry is to budding talent like yourself?
BAK: Honestly, every actor has been insecure at some point of their careers, because there's always someone ready to replace you, someone with better skills, looks or even contacts. So I don't think about it too much, I just want to be honest to my craft. What matters to me are my choices, the kind of work I take up and my portrayal of my characters. Giving on-set insecurities a lot of importance would get me distracted, and that's something I don't want. A lot of dedication and focus is required in the kind of professional were in, I can't afford to take it all for granted.
HIP: And how supportive has your family been?
BAK: They've been very supportive. It's funny how my father wanted to be actor and it was [also] his dream to make me one. We would watch a lot of films and till date, he would ask me to notice how Amitabh Bachan walks or other technicalities. A lot of times I miss my own episodes, and even though he's a busy man, he manages to watch all of them and gives me proper feedback and honest critique.
Also Read: Bilal Abbas Khan collaborates with Zafar Mairaj for new project 'Qurban'
HIP: Where do you see yourself now?
BAK: You see Pakistan doesn't have many young actors, and with more films being made, television actors have taken a leap onto the big screen, so there's an empty slot, and the right time for a lot of people. After Rasm-e-Dunya, I was offered a lot of serials, but I knew that O Rangreza was something I would want to wait for. I know it'll leave a mark and I'm proud of having been a part of it.
I think I've become very selective as well, I don't want to be someone who does ten projects a year and none of them are registered. Rasm-e-Dunya, O Rangreza and my next, Qurbaan will see my in very different characters. From my appearance to dislodge delivery, all three of my characters are poles apart to one another, and I'm glad because I want to play with my characters. I don't know if I have it in me or not, but I'm very passionate about acting and I just hope I end up at a good place.
HIP: Lastly, what projects are you currently working on?
BAK: I've began shooting for another project, Qurbaan, it's a love saga written Zafar Miraj and stars Iqra Aziz opposite me. It highlights a social issue at the same time, I think it's very important to educate your audience and it all depends on how a certain story is depicted. A lot of serials now, are promoting vulgarity, the theory of how more people talk about it, the bigger it'll become is being implemented. Even though the social issue we're delving into is very common, I've read the entire script and I can assure you that it's very sensitively dealt with.