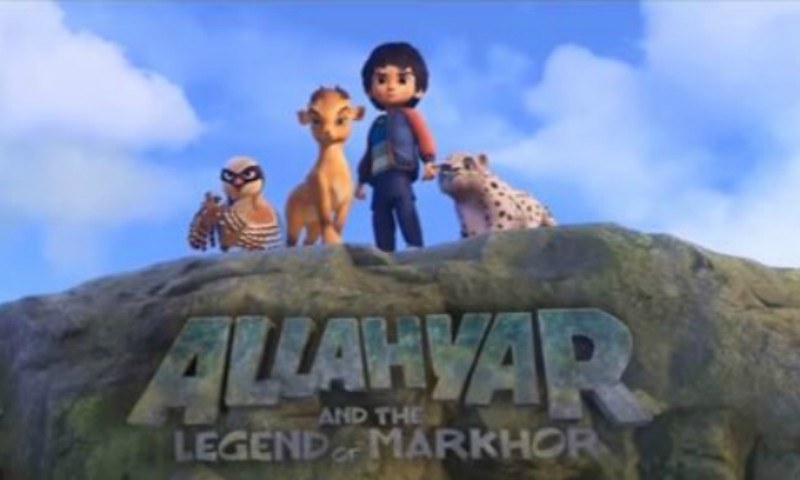 Associate Producer Eyad Ibrahim: "It is about nature and the importance of conservation & also about being selfless."

It doesn't even look like it's our work.
The first time a computer animated feature length movie was made in Pakistan was in the form of 3 Bahadur which was loved by all age groups and was a roaring success. With movies being made left right and centre now, recently we came across the teaser of a animated feature film called Allahyar and The Legend of Markhor which honestly made us forget 3 Bahadur within a second because of the quality of work put forth by the people at 3rd World Studio which have impressed us immensely!
Now we know Pakistan is not short of talent so to see something like this which has come from a newer team proves that hard work and dedication always pays off as the teaser for the animated film is being received quite well by all who have seen it so far.
The first thing which appeals to one as a viewer is the realistic touch be it the scenery or the movement of the birds wings, everything from beginning till the end of the teaser is so impressive that it makes you feel like you are watching a movie which has been made at Disney!
With us curious to know more about the team who has left us in awe of their talent HIP got in touch with Eyad Ibrahim, the Associate Producer of the animated feature film and asked him exactly what was on our mind.
What is the concept behind Allahyar and The Legend of Markhor? Eyad: It is a story about our relationship with other species that share this planet with us, it is about nature and the importance of conservation. It is also about being selfless and understanding the value of life and living things.
The teaser is really impressive,has your team trained from abroad? Eyad: Our team comprises of artists from all over Pakistan, including veterans like Uzair Zaheer Khan and Usman Iqbal amongst others. While a few have studied film and animation, most are self taught. However, it is our collective drive to push boundaries which has enabled us to produce the quality that you see in the teaser and will see in the film.
Who are the voice over artists involved in the project? Eyad: The cast includes names like Ali Noor, Natasha Humaira Ejaz, and Anam Zaidi besides other very talented actors.
When should we expect to see Allahyar and The Legend of Markhor in cinemas? Eyad: While we don't want to keep our fans waiting for too long, the release date has not been finalized as yet.
Wanting to know more about the studio itself, we intruded more.
How did 3rd World Studios actually come about?
'It was founded especially for the production of animated feature films as we believe that there are stories that need to be told that impart valuable lessons in a language that we call our own. Entertainment that showcases our diverse and unique culture and its values"
Read : Animated series 'Tick Tock' turns into a feature film
Lastly what future projects are you working on currently? Eyad: Currently it is Allahyar & The Legend of Markhor which is our main focus and future film projects are in pre-production phases so we cannot really talk about them.
With us hoping to see some amazing piece of work once the animated feature film does release hopefully soon HIP would like to wish the entire team of 3rd World Studios all the very best with Allahyar and The Legend Of Markhor which looks very promising indeed.