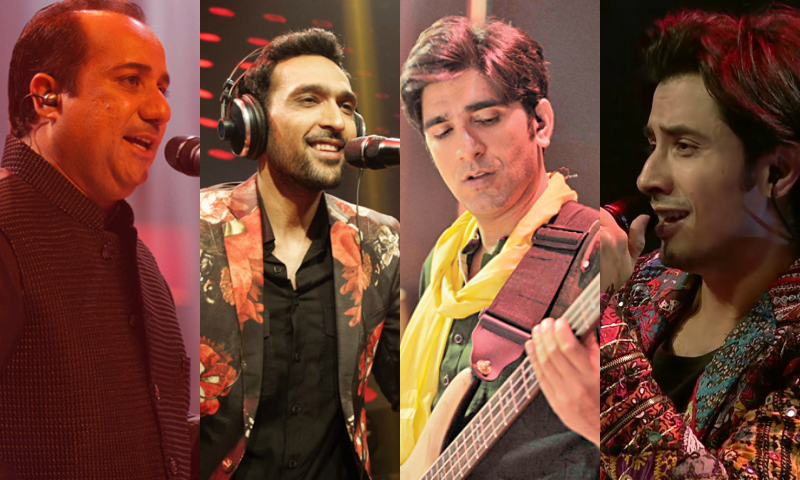 There's Rahat & Ali Noor there's Jaffer & QB, Ali Zafar, Ali Hamza, Ali Sethi & Waqar Ehsin. Can't get better than this.

The first episode wowed us and now the second episode has us mesmerized. We're in a complete trance and its no big deal owing to the enchanting songs this episode of Coke Studio Season 10 churned out.
So this week saw the second tribute from amongst the seven promised by Coke Studio. Jashn-e-Baharaan by Master Inayat has been a long lost favorite but the way Ali Zafar and Shuja Haider recreated it, was exceptional. Shuja Haider recently mentioned in a leading daily how he wanted to bring variety to Coke Studio and it seems, this time, he's directing variety with the right amount of spice. This tribute to Master Inayat was absolutely beautiful in Ali Zafar's vocals!
Our personal favorite today happened to be Faasle by Jaffer Zaidi and QB. What a heart-wrenching ballad of love and loss this song was. Listen to this song and you'll be hooked, taken to a place that exists somewhere in the realms of lovers who know the pain of finding and losing their beloveds, Faasle, is one heart-shattering tale of unrequited love. And the way the signature Kaavish tunes were etched into this number, it certainly transported us in time. Hats off to this one track without a doubt!
But when there's just so much quality music, one gets overwhelmed! And this overwhelming feeling overflowed with Salman Ahmed's recreation of Sayonee featuring Ali Noor and Rahat Fateh Ali Khan. The fusing vocal was a risky feat that's been pulled off extremely well. Complete with rubab and flutes, this rendition of Sayonee brought back those nostalgic times and yet gave us the individual identity of the song to remember and recall for years from now.
Last but not the least, Ali Hamza's original Tinak Dhin happened to be a simple yet beautiful song that explored life in all its essences. We loved Tinak Dhin for its simplicity and yet the fusion of vocals by Ali Hamza, Ali Sethi and Waqar Ehsin, was stupendous. Tinak Dhin might have come off as simple but the complexity of the voices was right there, etched into the song and yet blended perfectly to give it a great recall value.
All in all, the 2nd episode of Coke Studio happened to be a heady mix of eclectic sounds and nostalgic music that certainly transported us back in time and yet brought us back again with their modern arrangements. We're now more than eager for the 3rd edition of the season 10!!!
Read: Coke Studio celebrates 10 glorious years journeying through the sound of the nation