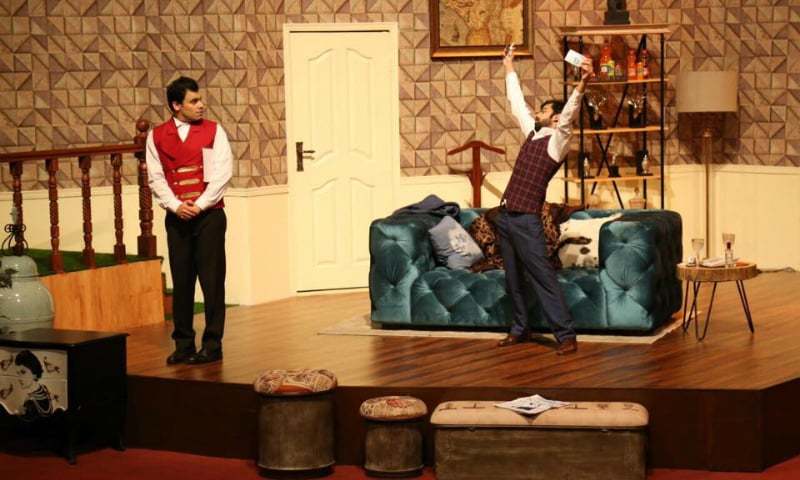 Guess it's not the language what keeps people away from buying tickets, it's the content.

What comes to your mind when you hear "Date Night"? Maybe a sensuous jazzy tune, two people having the most beautiful moment of their lives when they least expect anyone to intrude? Perhaps for some, it's not as lovely as it sounds…
Dawar Lashari, after performing several successful plays in Lahore now brings this one for Karachiites at the Arts Council of Pakistan. The plot, set up somewhere in a hotel in London, well-furnished and having a calm atmosphere but who knows how long this would last. As the show starts with a short man (Roger) in all his vigor preparing for a date as he moves along with the beat, where on the other hand a tall man (Geof), as energetic as Roger, is expecting someone in his room. Without any doubt, the opening was so bouncy and fun that the viewers could be seen shaking along.
It gets even more exciting when we get to find out that both these men tend to share something in common… THEIR WIVES...
Both the ladies, Sally being vain and salacious and Helen being so bright and bubbly bring contrast to the characters. While the manager of the Hotel Ferris, is the only one who's aware of all the deep secrets of his four customers, keeps moving from one room to another making sure that nobody gets caught.
The team has worked really hard on the acting and dialogue deliverance because there isn't a single moment you get to lose track or your concentration on the plot. Throughout, the viewers kept laughing, the puns were on-point, spontaneity being the key and most of all there was MUSIC and DANCE.
It's impressive how they made it look so happening and humorous with only five people on stage and all of them did justice to their roles. Full marks for the script, direction and most of all DEDICATION. It's a great initiative towards the theatre in Pakistan, the play being in English didn't seem to matter for people as the hall got filled within a couple of minutes.
Guess it's not the language what keeps them away from buying tickets, it's the content. People are tired of misery and the only way to cheer them up is by bringing more of these artists to the stage.