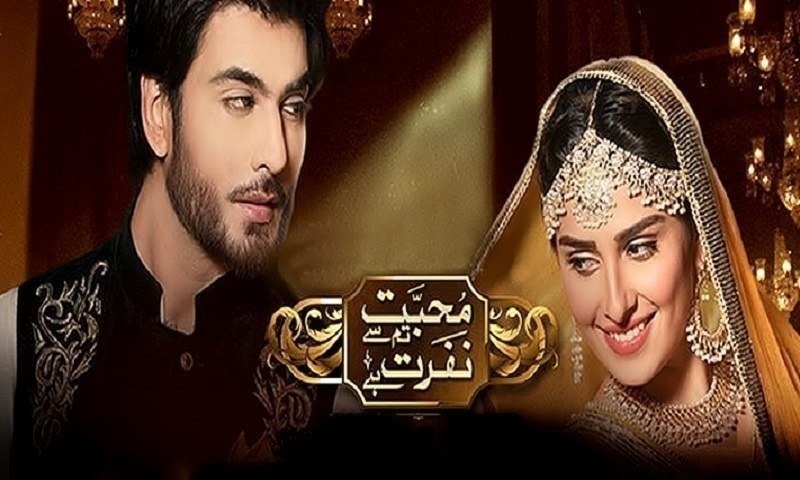 Waqar admits his love for Maheen and then denies it back to back, and we still can't get our heads around it
It's been a long time since we last reviewed Mohabbat Tumse Nafrat Hai, and rightly so because the drama has been progressing at a snail's pace. There have been milestone developments but anybody catching up with the drama can easily get to know what might have happened.
So here's what has happened overall. Waqar admitted he loved Maheen but being the guy he is, Waqar will never build his life by hurting so many people and so he keeps constantly denying the fact. So much so that even Fajar, who believes him for what he is, was shown confused in the last episode. The family isn't convinced and Ami Begum's thappar was justified for once because she knows Waqar was lying. We can safely judge that she might have slapped Waqar to let him have an idea that she believes him but in actuality, it looks like Ami Begum knows why Waqar is behaving erratically and perhaps that's why she mentioned: "Jhoot bol raha hai".
We really need more open conversations between Maheen and Waqar so that at least the audience and perhaps both of them know what to expect from each other. Waqar doesn't speak to Maheen and perhaps that's why it becomes so easy for him to fool her. Also, the scenes progress without much explanation and so did we miss out when Waqar flirted with Maheen because we can't recall that happening in the last episode.
In a parallel track, Jia's and Maheen's heart to heart conversation was a first for all of us. Yes, both of them have been talking and claiming to be buds but all their convos always revolved around Waqar and so this time when Jia shared her plan with Maheen, it was hard to digest for Maheen. Perhaps Jia's bitterness is making her do all this and Maheen is rather confused about what Jia actually wants to do and happen.
All in all, the story is slowing shaping up and milestones being achieved but still, there is a lot of chaos that needs explaining. Will Waqar and Maheen end up together? Why is Maheen promising Gulrez that her wedding procession will go in his Foxy? Where is Gulrez and what is going to happen to him because we still can't forget the first episode where the Foxy was shown outside a graveyard.
For us, Imran Abbas has been the only saving grace for MTNH and we love him with his personality and character. Ayeza's scenes are developing gradually and she has started to come off as a bit sensible. Perhaps you can stay hooked to this space to find out more or tune into MTNH to try and get your heads around the story like we're doing.
Read: Mohabbat Tumse Nafrat Hai reveals shocking discoveries!