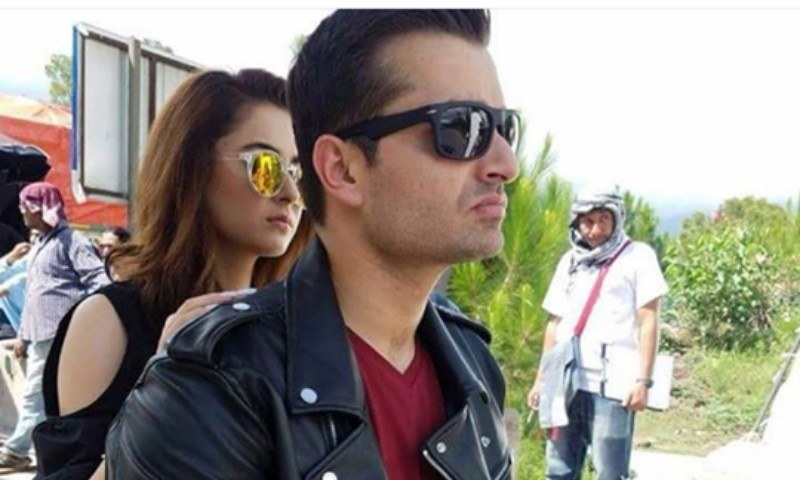 "With my beard, I looked like her uncle" revealed the actor in a recent interview of his with a leading daily.

Whenever Hamza Ali Abbasi would post on his social media pages about things which he felt were not correct and voice his opinions, it is very rare that people keep away from bashing him.
Despite not having many plays or movies to his credit Abbasi, enjoys a massive fan following simply because he comes across as a man who is not afraid to stand up for what he believes in and that is a quality which sets him apart from the rest. It is common knowledge that he is dead against item numbers in Pakistani movies. He did not take part in promoting his own film, Jaawani Phir Nahi Aani.
In a recent interview with a leading daily, Abbasi shared his motivation behind signing up for his upcoming movies, Maula Jutt and Parwaaz Hai Junoon. The relevations made us see the actor in a different light.
"When I choose my work, I think k yaar what am I giving to the society? I don't want to do something that I will feel bad about doing. People watch and our work influences them. So for me, that's my biggest priority. Money does not matter." revealed Abbasi.
Read : Did Hamza Ali Abbasi just take a dig at 'Na Maloom Afraad 2'?
With very few actors like him who think the same way, when we had heard that he had signed up for an air force movie we were over the moon. We are sure Parwaaz Hai Junoon will be worth watching.
"The Air Force is making a film after 30 years and I wanted to be a part of it. The Air Force isn't known to make films the way ISPR is. It was their first attempt after many years and they wanted to show a young, new face. It has lots of elements"
Talking a bit more about the movie, Hamza also mentioned, "Cadet life is fun and that has been shown in the film. There is a lot of humor. I'm playing a pilot. There's a love story also. Hania is playing the lead in it."
With an ensemble cast of Kubra Khan, Ahad Raza Mir, Shez Khan to name a few the pairing of Abbasi and Hania Amir sounded a bit off as the actor is much older than her. However, he had an answer read for that as well.
"Why do you think I shaved? With my beard, I looked like her uncle. She's very young. She's 20 but she looks 15, 16 years old. So I decided to shave because I didn't want to look like her chacha."
Clean-shaven Hamza Ali Abbasi is equally good looking so whether he keeps a beard or not we think he looks amazing either way. However, in his other film Maula Jutt, he will be seen with a beard. He plays Noori Natt, a role which he mentioned is the most difficult character he has ever played.
"Has to have a balance between a Noori of 2017 and the essence of Mustafa Qureshi."
Now, how well has he managed to portray that only time will tell but with Hamza Ali Abbasi not being afraid of anything or anyone, we look forward to watching him on the big screen once again as we know he will rock in both films.