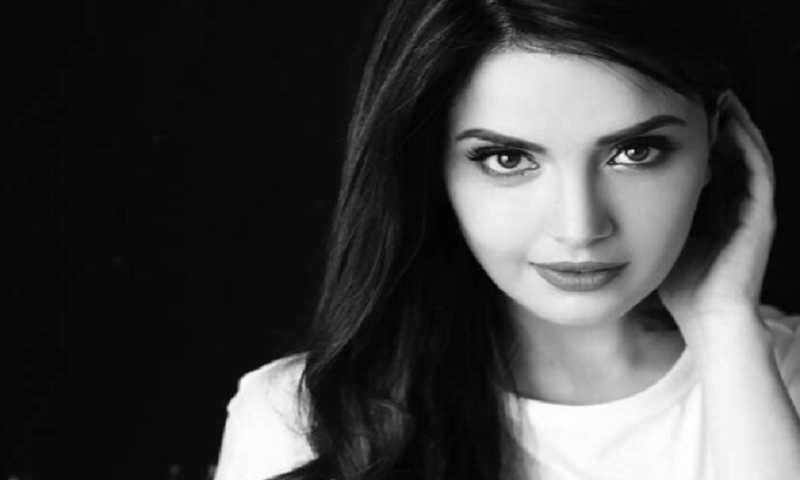 The actress also confides how she was tired of playing an eye candy in her projects so far

Armeena Rana Khan, a name that comes synonymous with the most beautiful actresses Pakistan can boast of. The starlet, with her gorgeous eyes, to die for features and flawless complexion, looks more like a divine creature in whatever avatar she chooses to play.
But as Armeena says, "there's more to me than just a pretty face" HIP sets out to discover, what this gorgeous lady is intent to proving to the industry, with a whole range of different roles she is taking up these days.
Armeena recently revealed her look for her upcoming British movie, "Achilles Protocol" and generated lots of speculations. Armeena looks fierce and deadly, much different to what we've seen her be and so we question her about it.
"I play an artificial intelligence with a GOD complex called ISIS," Armeena tells us. "The role demanded me to have a certain type of look so I literally worked on physically transforming for the character. Once the movie is out, you'll certainly notice the muscles I've put on myself. A.I are different, and the character I play in Achilles Protocal is larger than life, with fitted costumes. There was no room for a mistake and so I had to make sure, I looked my part. There were long extensions for my hair and a lot of muscle on my body." Armeena further adds.
The Janaan star also revealed how the first look of Achilles Protocol wasn't up to the mark for the makers. The British are perfectionist, she said. The movie is now into post production, ensuring the AI characters actually come out as they're supposed to. Achilles Protocol is being prepped up for major film festival releases and once it's done the circuit, a proper release in Pakistan will be looked upon.
"Initially the makers were very much concerned about taking me on board. A.I films are made in an entirely different manner, with entirely different postures, so they were rather concerned. But after auditions, the team was convinced and I landed the part. Still a lot of was hard work needed to be put in for my character and so I took a break from Pakistan and worked on physically transforming myself for the part," Armeena confides.
Armeena tells us how she went into a body building routine to get that toned, sculpted look for her part. Yet, Achilles Protocol being a short film, and her major projects here in Pakistan, didn't Armeena think she was taking a risk, beefing up for her part in the British venture?
"That's the reason I took a break from Pakistan for three months. The image for a protagonist in Pakistan is that of a vulnerable, nazuk si larki, so yes, I've had a rocky time here. If you look at me in Rasm-e-Duniya, you'll see all the muscle on me. I did come at the receiving end of criticism for my look in the drama because people in Pakistan don't see the toned muscles but call you chubby for that. I have now worked hard to shed the muscle I put on with real effort, but it is this way it's going to be here."
Armeena's level of dedication shines clear through her physical transformations for her different characters. The actress is currently being seen in Daldal where she has easily shed her glamorous image for a more realistic look as a middle class girl. Wasn't Armeena concerned about going onscreen minus all the glamour, the actresses are so keen on adding to their images today?
"To be honest, I've had a lot of glamorous roles. I'm tired of being an eye-candy and want to do more performance based characters. That's the reason I took up Daldal and Karb before it. The beginning for it might seem like a usual drama, but wait for it and you'll see issues being raised that have never been discussed in dramas before. So far I've failed to connect well with my audience, reason being I've not had a chance of portraying my real skills as an actress. Even in Bin Roye, I was treated more as an eye-candy. My character was short and the focus was on Humayun and Mahira. I want to prove to my audience that there's more to Armeena than just a pretty face and that's what I'm focusing on now.
Armeena is also working on her first British feature film Real Target as Agent Wilson. When questioned about her intentions on trying her luck in Hollywood, Armeena admitted it might or might not come about with Real Target. "The thing about Hollywood is that its tough. It might or might not come about once Real Target is out since its a full length feature film and has an international star cast. The film will take time for now so Hollywood isn't out of the question but its a little too early for it at the moment."
Currently, the actress is headed of to New York, for a Pakistan Day Parade in Long Island. Armeena will lead the parade as a grand marshall and also take part in an American version of Jeeto Pakistan, giving away cars.
Read: Armeena Rana Khan to star in another British movie 'Achilles Protocol'