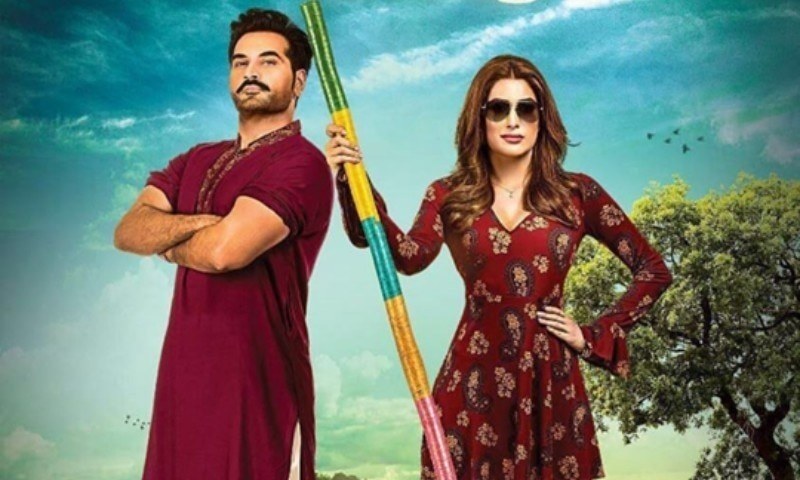 The triumph of Punjab Nahi Jaungi is in its technical superiority, its 'heavy' dialogues & the cinematography.
One attends the star studded premiere of Punjab Nahi Jaungi and is extremely impressed. The film stands out on its own owing to an engaging script and amazing execution.
The triumph of Punjab Nahi Jaungi is in its technical superiority, its 'heavy' dialogues & the cinematography. The story does have some loose ends but in comparison to what Pakistani cinema has offered us in 2017, this movie is a welcoming break nonetheless.
Humayun Saeed as Fawad and Mehwish Hayat as Amal, play their parts splendidly. The dialogues are extremely well written. Even at times, when the scene doesn't demand such intense dialogue, Humayun Saeed delivers them with complete honesty. Mehwish Hayat plays a meaty yet quite challenging role which demands her character to evolve rapidly with effortless grace.
Having repeatedly seen the trailer and the poster (thanks to frequent visits to cinema), one could see that proper attention had been given to detail. You might have noticed Humayun Saeed's flamboyant joggers with his kurta shalwar in the posters. By its title & trailer, I went in expecting a Lahore boy vs Karachi girl movie, blurting out stereotypes. However, the story writer and the director has not fallen in that trap and this one's something good and new.
Without spoiling it for you, Punjab Nahi Jaungi, is a story of 2 families with ties of, and I quote "over 100 years". Both families value their word and their tradition greatly (parampara and all). Things start to get complicated when Fawad Khagga (Humayun Saeed) falls in love with Amal (Mehwish Hayat). The rest of the story revolves around relationship problems between the two, with Durdana (Urwa Hocane) playing a major role. Fawad goes a major male ego trip, while Amal, switches from being a stone-cold strong individual to melting at Fawad's outlandish antics or cowering to her family's demands.
To summarize, it's a Rachel and Ross story in a film with a Pakistani touch to it. We fell in love with Rachel and Ross as the story line was carefully crafted in over 10 years. The writer for Punjab Nahi Jaungi, however, did not have that liberty in two and a bit hours, so the movie may feel a little rushed at times. However, shrewd use of songs (which are quite melodic) has helped.
Often when a director uses pretty locations, it becomes a distraction for the audiences. However, Nadeem Baig has managed to use the gorgeous houses (Donald Trump may want to buy some glittering gold havelies) and beautiful fields aptly in the background while focusing on the performers.
Also, both Mehwish Hayat and Urwa Hocane, look stunningly beautiful, fitting with the overall feel of the film. Mehwish Hayat pulls off the 'London return' look and swiftly shifts to the traditional attire with magnificence and finesse.
The supporting cast including Ahmad Ali Butt, Sohail Ahmad, Saba Hameed, Naveed Shehzad and Azfar Rehman have more or less played their part good. Especially Sohail Ahmad as Mian sahab who plays a vulnerable grandfather who is afraid to let go of his long-held values but is also understanding of the choices of the younger generation. He also provides comic relief from time to time, which is a plus because there are a lot of tears in the 2nd half of the movie.
Audiences may find the dynamics between Ahmad Ali Butt and Urwa Hocane a bit odd and also unfulfilled. However, it should be told that a major event in the movie revolves around Ahmad Butt's morale choices, yet his motivations remain sketchy at best.
To sum it up, the director takes a 'boys will be boys approach' for the most part but has been able to justify that impression by managing to end the movie with a more equable and constructive note. One thing the dialogue writer(s) deserve a lot of credit is for moving on from the Shahrukh Khan comparison. Young Pakistani boys are Ranbir Kapoor now not SRK (sorry you had a long run, sir).
All in all, Punjab Nahi Jaungi is the best Pakistani film of 2017, though admittedly our choices are limited.
Now to Na Maloom Afraad 2. Good times for a Cinema fan.
Read: Punjab Nahi Jaungi Vs. Na Maloom Afraad 2; War of the screens