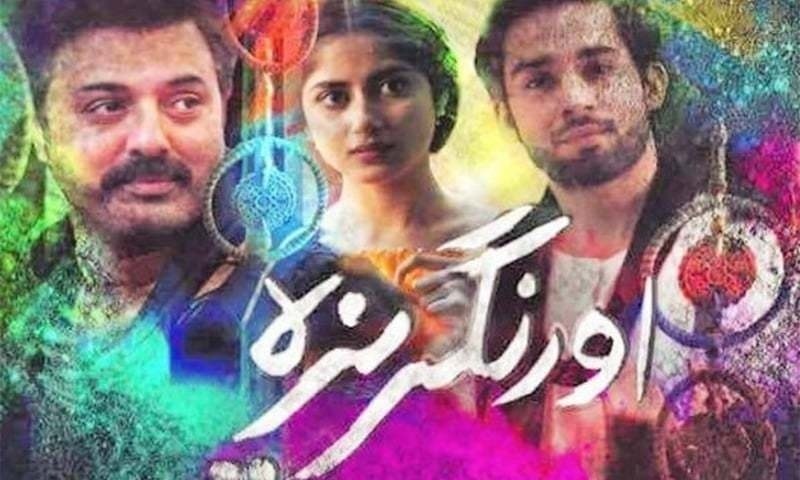 Saji Gul has penned down a beautiful script capturing human emotions in the most realistic yet creative ways on TV ever
None of the plays that we watch over the week have that much needed artistic appeal as O Rangreza. This is one drama that is not only based on a strong script but has brilliant execution owing to the fact that its been presented with each detail on point.
We love how Saji Gul has played around with only a handful but very powerful characters in the story; each person bringing about something unique of his own to the plot and standing out. Kashif Nisar the director has ensured, there is artistic detailing in his scene, a presentation of culture, tradition and color, all appearing just balanced and not overdone at all.
7 episodes down, we have yet to witness a dull moment in O Rangreza. The beauty of the play lies in the raw emotions portrayed strongly by its lead Sajal Aly alongside Sana Fakhar, Noman Ejaz, Bilal Abbas Khan and Irsa Ghazal.
Read : 'O Rangreza' has the potential to become a chartbuster
Khayyam (Noman Ejaz) has become extra sweet towards his simple and unimpressive wife, Mumtaz. This he is doing just because Sassi pointed it out during her raging rant in the last week's episode. Khayyam is shown to be considerate but inside he's playing a double game and shocks everyone when he declares how he loves Sonya and wants to marry her.
Now that just broke our hearts. No matter how unimpressive Mumtaz is, she has been a devoted wife to Khayyam who just doesn't find her fulfilling enough. Khayyam is a poet and he lives in his own world of creativity, where perfection exists. And since he has find the perfect image in Sonya Jehan, he just wants to marry her now and have her to him alone. What Khayyam is ignoring is the fact that Sonya Jehan already has men lined up at her feet and this might serve him bad in some point.
Read : O Rangreza episode 6 review: Khayyam finally gets a reality check from Sassi!
And Sonya, she herself is married to a film director who is rather harsh. Sonya and her husband share a brash relationship where she does not let go by any opportunity to insult him to the fullest. And with Sassi having witnessed the ugly reality we're certain she'll want to stay away from Sonya and bring out the truth, even if Sonya pleads with her to keep it quiet.
But by now we all know that Sassi has a mind of her own and listening to advice, sane on insane is what she cannot do best. Sassi tells her father outright how Sonya is married and treats her husband because she did see Mumtaz agreeing to Khayyam's demands of marrying Sonya in the first place.
We really like how O Rangreza continues to move forward at a strong and steady pace without being dragged. Next week suggests Khayyam trying to marry off Sassi. Now will it be Qasim or someone else, we're certainly intrigued.
Noman Ejaz is a super star because he knows how to keep his audience glued to the screens. His conflicting role as a strong yet weak man at heart and morals is very interesting. We also like the fact how Bilal Abbas is evolving with every episode. The young actor is open to experimentation rather than sticking to a safe side and that's a refreshing treat. Sajal Aly is a true entertainer and we're glad she has tried something different with Sassi. The girl plays her role to perfection and is a joy onscreen.
If you want to see a play with some superb performances and an intriguing story then O Rangreza is definitely for you. Watch it every Friday at 8 pm only on Hum TV to see what life has in store for the confident Sassi, the conflicting Khayyam and the docile Qasim.