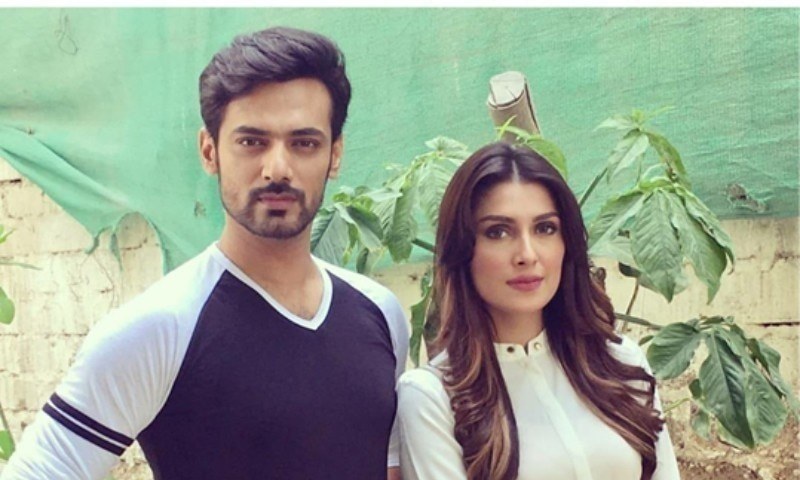 This week's episode showed an emotional Maya, confirming the fact that women can fall in love easily.
We're glad Pakistan's drama industry loves to experiment. And it's because of the experimentation that we get to see some very unique and interesting plays. One such intriguing drama that is topping our list of most watched happens to be Tau Dil Ka Kya Huwa, an interesting story of extra marital affairs and deceit in a relationship.
Maya leaves her husband Faris for Saif whom she loves. But ten episodes down, she has now discovered the guy was never faithful to her and is now regretting.
This week's episode came along with revelations. Maya (Ayeza Khan) now knows Saif (Zahid Ahmed) is engaged to Lubna. But what she didn't know was the fact that while Saif declared his love for Lubna, he went out ona date with Bella. And while he was flirting around with Maya, the same Saif was seen with Muzna as well.
Zahid Ahmed is truly experimenting with his character in Tau Dil Ka Kya Huwa and since the play is written by Khalil ur Rehman Qamar, we'd really want to see how he has thought upon Saif's character and what is to become of him.
Read : Tau Dil Ka Kya Hua episode 9 review: Things are taking an interesting turn
On the other hand, Zoya is finally recovering and can move around a bit. Faris is one of her daily visitors who, even after a breakup with Maya, continues to hold his ties with the family and is fond of them dearly.
We don't know yet if Faris visits Zoya with hopes to see Maya or out of love, but time will certainly reveal what the loyal Faris still holds in his heart for Maya. The girl has been shunned by her parents. Farah Shah who play's Maya's mother has told her to stay off but we couldn't really relate with the woman as her dialogue delivery came off as very loud and more emotional than needed. Also her hair were a big distraction and our focus kept shifting to them, because like Farah Shah's performance, the hair also came off as a bit too stiff.
Lubna, Maya and Bella sitting together was our favorite part of the play. We love how Maya has now vowed to destroy Saif but the fact that she is now realizing her mistake and missing Faris, is a little hard to digest. Of course Maya will now miss Faris, but why couldn't she just see how nice he was before she fell for Saif and left him. We hope Faris finds his happiness with Daaria (Mansha Pasha) because she is a sweetheart and has been with him through his thick and thin.
We're eager to see what becomes of Maya and whether she will be able to avenge herself and Lubna and punish Saif for using them both?
We're enjoying watching Ayeza Khan as Maya because her character, with all it's different shades is quite interesting. Sami Khan brings a realistic and very humble feeling to Faris and of course Zahid Ahmed as the flirtatious, bad boy Saif is a treat to watch. Shahid Shafaat, the director, is doing a great job keeping Tau Dil Ka Kya Huwa interesting and different than what we've seen on television so far.
So if you want to see something entertaining and intriguing tune intoTau Dil Ka Kya Hua at 9.10 pm every Sunday only on Hum TV.