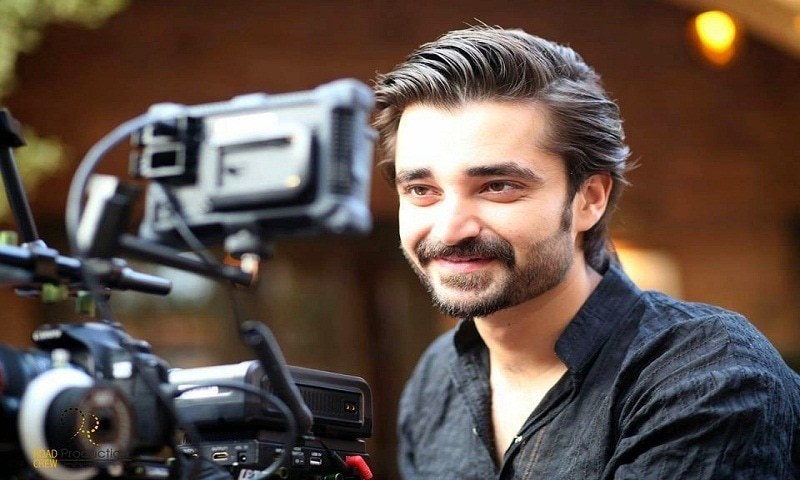 Check out Hamza Abbasi talking about choosing Parwaaz Hai Junoon, Maula Jatt and his rather bad dance moves

Hamza Ali Abbasi, no matter how vocal or political he can get with his bold statements, has always been a favorite for the audience. His stint in Pyarey Afzal, where he played the lead Afzal Subhan to perfection, won many hearts and girls swooned to have a lover like Afzal was.
Hamza then wowed us with his role in Jaawani Phir Nahi Aani, where he portrayed his men-just-want-to-have-some-fun role with ease and had the woman hating him for his character, all the while enjoying Hamza's performance.
Be it his dramas or films, or even his political stand with party PTI, Hamza does everything with abolute conviction and that's what we love about him the most. And hence, when he announced he was to be a part of Haseeb Hassan's Parwaaz Hai Junoon, a film tribute to the great Pakistan Air Force, we couldn't really control our excitement. Because we do know, Abbasi, will be picture perfect as an air force officer in the film, and so we're eager to get our hands on all the details before the film comes out.
So last night when we got the chance to speak to Abbasi on the sets ofParwaaz Hai Junoon here in Lahore, where the actor is busy in shooting the last spell of the movie, we quickly sat down with him for a chat before it was his turn to go on the set for his shot!
Read : Did Hamza Ali Abbasi just take a dig at 'Na Maloom Afraad 2'?
And here's an exclusive just for you guys,
What made you say yes to Parwaaz Hai Junoon?
Hamza: I feel with Parwaaz Hai Junoon, we are not only offering entertainment but also doing a national service. We're bringing to the forefront the modern face of our Air Force. The movie shows the human side of the Air Force officers, whom we sometimes think of as machines. The beauty of Parwaaz Hai Junoon, thus lies in what these soldiers go through, how they relate with their families, how loving they are as people and those who become Shaheed even have families . So, the reason for choosing Parwaaz Hai Junoon would be, that its more than just pure entertainment as It has a purpose and that's my motivation.
Can you tell us a bit about your role in the movie?
Hamza: I am playing an Air Force officer; a pilot. He is a young guy and I had to shave off my beard for the character. People kept asking why I did it, so here it goes, this pilot is very young and with a beard and moustache, I'd be looking more like an uncle. Also my character is a very passionate man, for whom the country always comes first, but that certainly will not mean he won't have any emotions.
Hamza also revealed that his character's name in the movie will also be called Hamza; although on a personal level, Abbasi feels that a character should not be named after a real person.
Moving on, we had to question Hamza regarding working with Haseeb Hassan again. We saw Abbasi in Mann Mayal, a Haseeb Hassan directorial and wondered if Parwaaz Hai Junoon came about because of the easy director-actor chemistry between the duo.
Read : Hamza Ali Abbasi and Talat Hussain's camaraderie steals the show in 'Mann Mayal'
What was it like working with Haseeb Hassan in a movie, your last collaboration being a drama serial?
Hamza: Haseeb is a beautiful person inside out and I am really blessed to work with people with whom I'm friends with as well. And dosti dosti main all the work gets done.
Of course, we have to ask this! What is the latest on Maula Jutt, is the shooting complete?
Hamza: No the last spell of Maula Jatt has started so I think that should be wrapped up by November.  
Would you tell us a bit about your look in Maula Jutt?
Hamza: Let that be a complete surprise because I can assure you, surprised you will be.
You had directed a movie called Kambakht what happened with that, do you plan to direct again?
Hamza: I plan to, yes. But as far as Kambakht is concerned I thought that since it is a brilliant script I am planning to redo it with a proper production, now that people are willing to invest.
Any message you would like to give out to your fans through HIP In Pakistan?
Hamza: I would like to say support good content as Masha Allah the film industry is doing very well. The drama industry is already doing well and because times have changed, people should accept Pakistani movies with an open heart and offer criticism or praise if they like or not like a particular film, because that will only encourage the industry to do better and bring forth better content. Gone are the times when one needed to watch a Pakistani film, whether good or bad, to support the cinema.
Before we wrapped up, we did question Hamza about whether or not we'll get to see the actor shake a leg or two in Parwaaz Hai Junoon, since the dance bts has been trending.
"I am really a very bad dancer," quipped the actor joyfully. But that doesn't mean Hamza isn't dancing in Parwaaz Hai Junoon. The actor will shake a leg, albeit Army style for the movie and we're eager to watch that too.