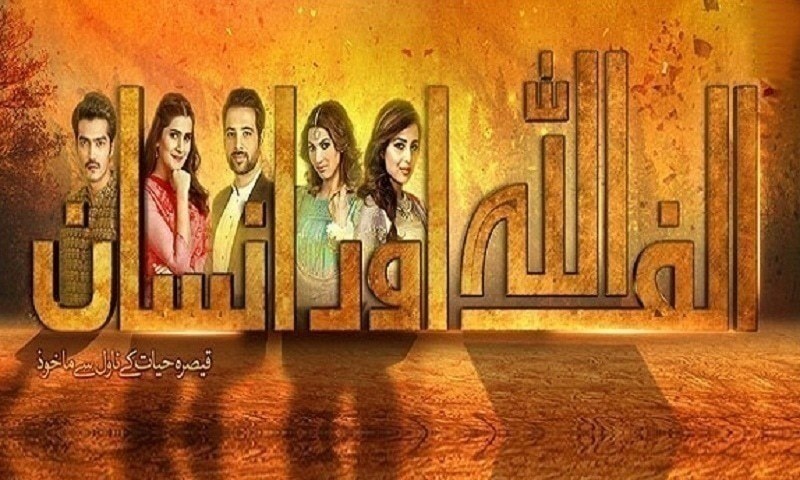 We're now wondering what life has in store for the characters now, since the drama is building close to its climax

Our Tuesday favorite without any doubt still remains Alif Allah aur Insaan. The play in its entirety provokes one to think about the valuable lessons life teaches you and how you can make the best of them. There are so many different shades of each character in Alif Allah aur Insaan that the contrast between the good and the bad, the black and the white comes off very clear.
So, Reena being the new starlet in town has her head high in the air. This week when old master sahab comes to see her for a help, asking her to enable him to step into the industry as a choreographer, Reena laughs it off on his face. She reminds him how menial he is and where he belongs, forgetting each and everything about her own background.
Read : Alif Allah aur Insaan continues to keep us hooked with its gripping story
It was heartbreaking to see Reena treating master sahab the way she did because it was him who taught her the moves when she became courtesan supreme. We love how Qaisra Hayat has incorporated the lessons of life in the script telling us how people forget their beginnings and how they fly high once successful, forgetting to place their feet firmly on the ground.
In another world, Basit has somehow managed to grab Shahzeb's attention for his artistry and has been invited over to complete the sketches for the mosque Shahzeb is building. When Shahzeb mentions Basit's name over dinner, Nazneen's agitation is visibly noticed by Shahzeb and his mother.
Although Nazneen has told Shahzeb she is in love with someone else, she still hasn't named Basit ever and we're now wondering how things will fare up between the three of them with Basit living in such close proximity of Shahzeb and Nazneen.
Read : Alif Allah aur Insaan episode 18 review: Life's changing for everyone
Nimra Khan as Zimmel is a fresh addition and we like the vibrancy of her character. We'd like to know more of her track, since she seems like a significant character who will probably be changing the life path of everyone else in the drama.
It is, however, Imran Ashraf as Shammo who wins us over every time we see him on the screen because everything about his acting is so perfect that you feel like you know Shammo inside out. Imran Ashraf has played Shammo to perfection, notice his hand details or his demeanor and you'll feel this is a trans itself and not a real life guy playing a character.
But not to forget Ushna Shah, who by far is giving the best performance of her career in Alif Allah aur Insaan. Earlier in the drama you felt pity for the poor Rani and now you hate Reena on sight, that's how powerfully Ushna has evolved with the character. Kudos to the director for extracting such strong performances from the entire cast; Alif Allah aur Insaan is a hit, without any second thoughts!
With brilliant direction by Ahson Talish we like how the story keeps moving ahead at a steady pace without losing track. For now we're wondering about Nazneen's and Basit's fate in the upcoming episodes, so stay hooked and we'll bring you more from Alif Allah aur Insaan.