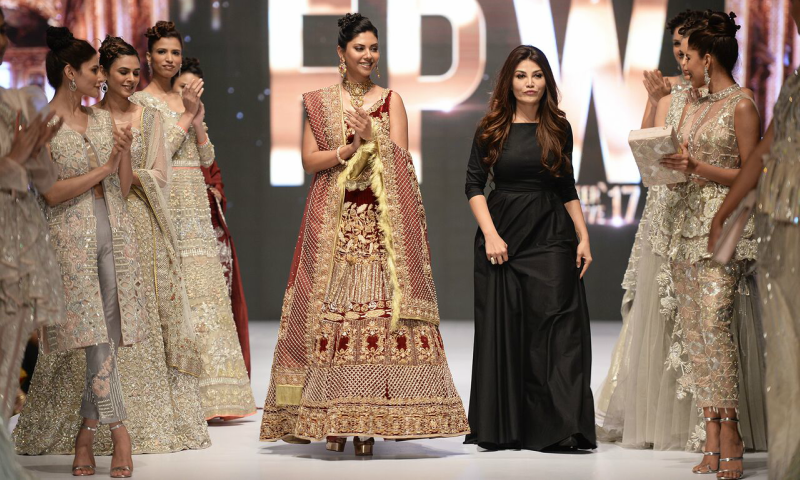 A wide array of colors and designs was on show for Day 1.

Pomp, glamour and style, brigades of stars and high profile personalities and of course so much of fashion; such was Day One of FPW'17.
Six designers opened on FPW'17 Day One, including Misha Lakhani, Aamna Aqeel, Erum Khan, Obaid Sheikh, Saira Rizwan, and Suffuse X Jaipur and Co.
Six high profile designers but out of the total six, only one managed to wow us; Day One was all about the opener, Misha Lakhani, hands down!
Personally, I have always loved Erum Khan's work. From the name of the collection to the actual dresses and color palettes, whatever Khan creates turns out really beautiful. I love designers with their distinctive style, designers you can spot easily, like Nomi Ansari. But what I don't like is designers turning out absolutely awful pieces and calling it art and such was the trend spotted at the opening day of FPW'17.
Misha Lakhani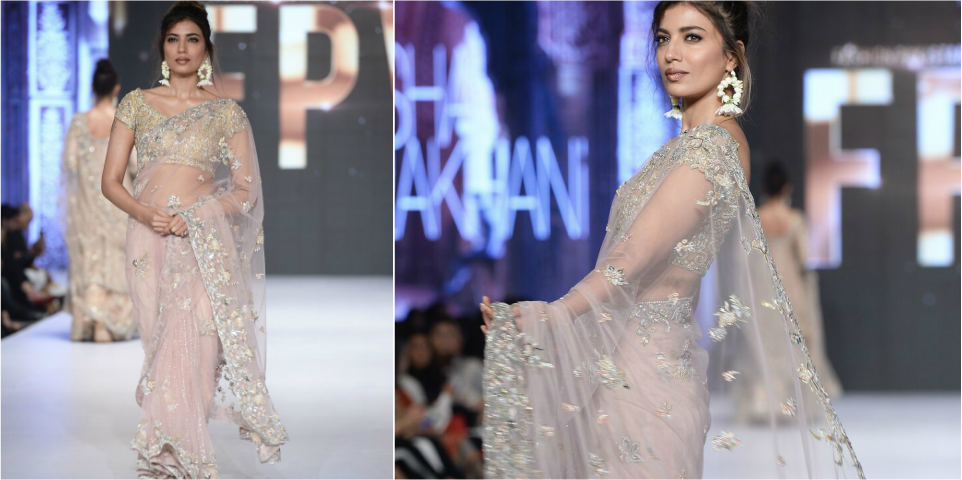 Minus a dress or two, Misha's entire collection was ethereal. Every piece was absolutely gorgeous; from the detailing to the color palette each and every thing, spot on! It is really tough to pick the best dress from Misha Lakhani's Bagh-e-Bahaar. However, this saari is certainly one of the most gorgeous pieces Lakhani presented last night.
Aamna Aqeel
A mix of good and just fine dresses was what the young designer had in store for us last night. The addition of black to everything was not a smart move yet Nadia Hussain rocked the beautiful Greek goddess in a saree look on point.
Erum Khan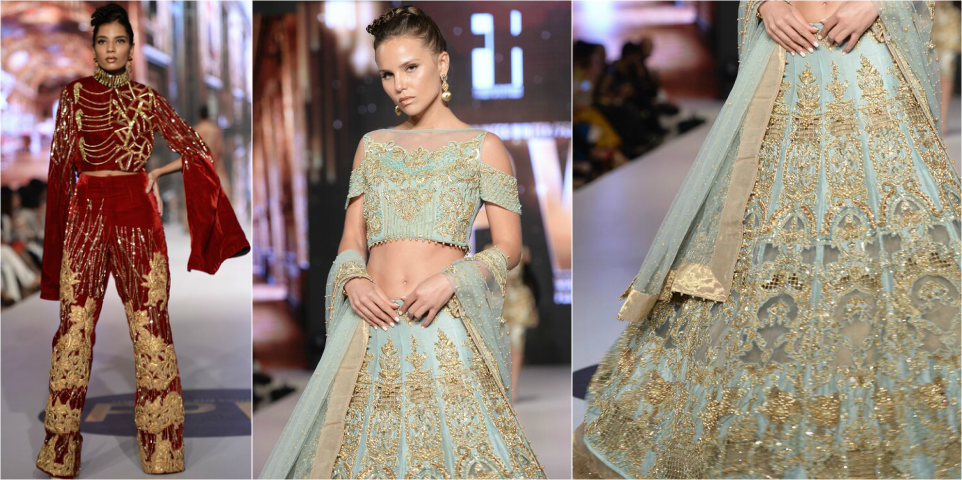 Khan's Bridal Odyssey worked best on her silver and pastel pieces. The ice blue and gold lehenga choli would be our favorite from the entire collection Khan presented.
Obaid Sheikh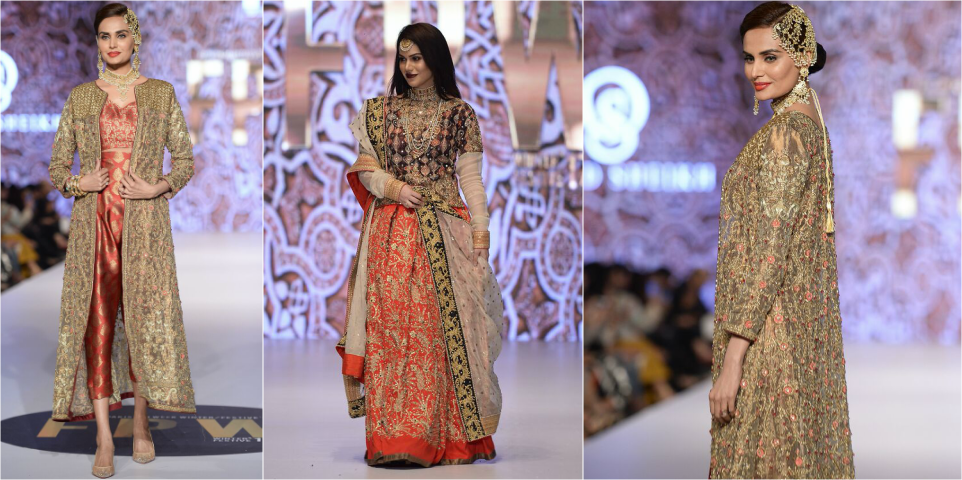 Playing with maroons, olive greens, and blacks - Sheikh's collection was a tad heavy for the eyes. Yet it was unique and had a distinctive quality of its own. Sheikh was the only one with both male and female pieces. Rich, royal, and glamorous would be the perfect words to define Sheikh's collection. Also, Ghana Ali as the showstopper was spot on!
Saira Rizwan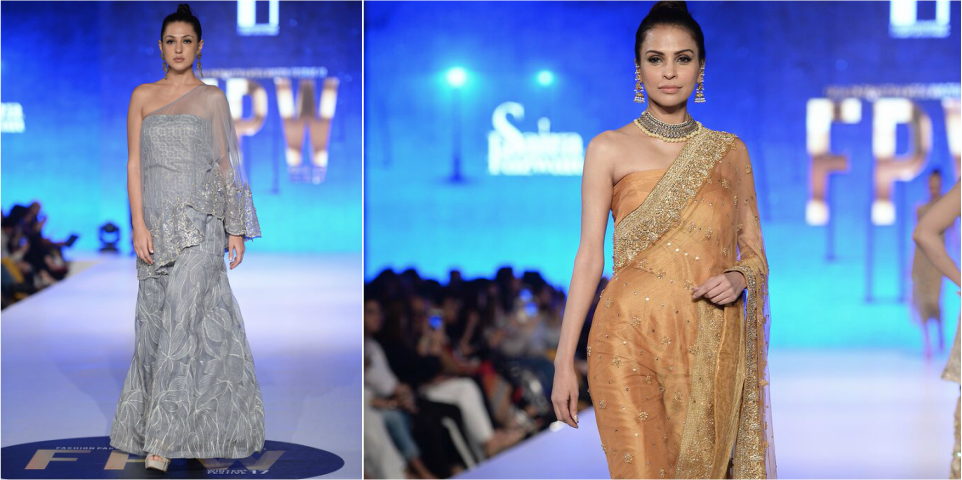 A mix of everything, Saira's dainty, very glamorous sarees stole the show. Burnt orange was a popular color of the night, but no one did justice to it like Rizwan. One didn't see a sea of jewels crowding her designs and that is certainly the thing I liked.
Suffuse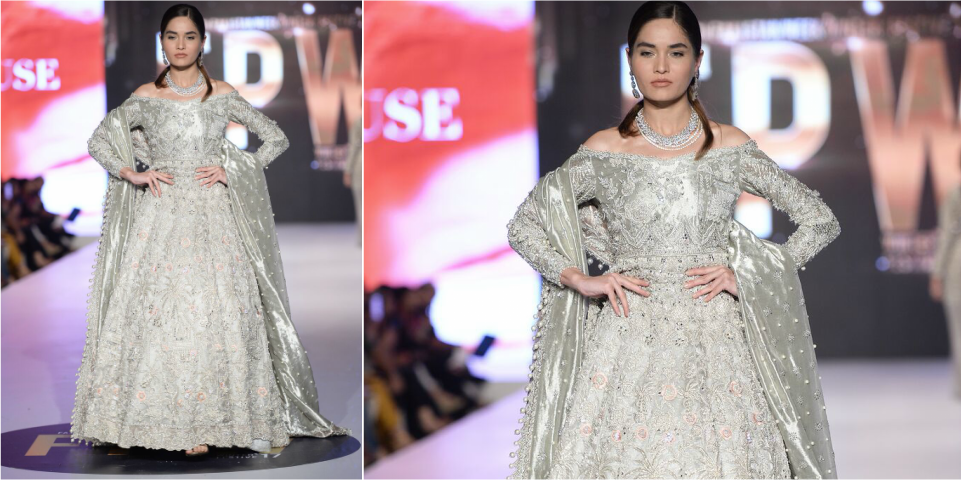 Suffuse brought something we have been seeing all year: pastel colors, jewels embroidered on every inch of the material, short shirts and gharara pants. The entire collection, although featuring a few different pieces however revolved around the same theme but looked exquisite nonetheless.
Read: FPW Winter Festive 2016 Day 1: HSY leaves the crowd enthralled with Onyx