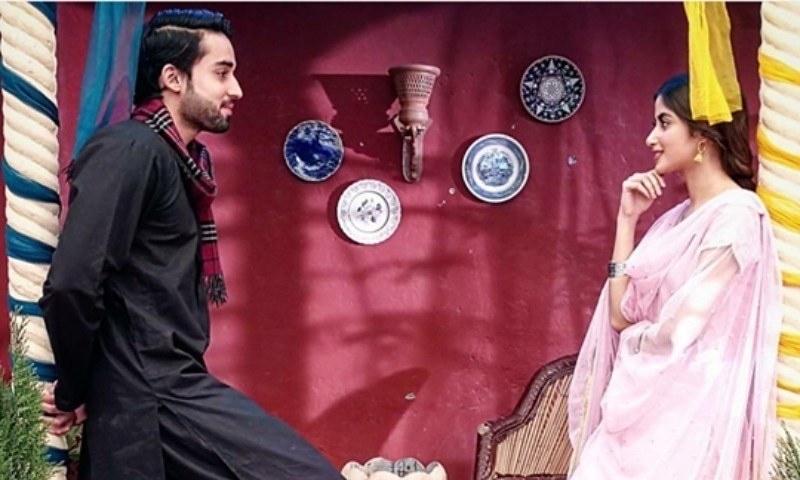 O Rangreza is one drama we're on the lookout for all week. We love this one because there is absolutely nothing not to love about O Rangreza. From Sajal Aly as Sassi to Sana Fukher as Sonya Jehan, each character breathes life into the play and keep us glued to our TV screens.
We're simply loving the rocky relationship between Sassi and her father, the famous poet Khayyam. In such short span of the drama Sassi's and Khayyam's relationship has evolved from being an idealistic father daughter relationship to one where Sassi has now understood her father's double standards since he has gotten involved with the ravishing film star Sonya Jehan, played wonderfully by Sana Fukher.
Khayyam knows Sassi is headstrong and she is now attracted to the glamorous world of films, highly impressed by Sonya Jehan. Before she can take a radical step, Khayyam fixes Sassi's engagement with his friend's son. But Sassi does not like him and has a plan up her sleeve.
Read : O Rangreza episode 7 review: Khayyam declares he wants to marry Sonya!
So this week's episode reminded us the complexities of Sassi's character. She is unpredictable and does what pleases her. She acts meek and plays along her father, acting demure during the proposal meeting making Qasim (Bilal Abbas Khan) extremely jealous. But it was when Sassi is alone with the boy, she does the most bizarre thing and jumps off the roof!
Sassi's unpredictablity and complexity make us love her all the more. We love Sajal Aly as the sassy Sassi because the actress breathes life into the character, making it every bit her own.
Khayyam is furious with his daughter, who lands at the hospital with a broken leg. It's Qasim and her mother who are worried sick about the girl and yet cannot do anything. Isra Ghazal as Mammo, is a docile woman and even when she is hearing everybody talking about Sassi's and Khayyam's equation she does not stand up for herself or her family at all.
And because Mammo herself cannot do anything, she asks Sonya Jehan for help to save her family. But will Sonya do something that's not for her own gain? This waits to be seen yet.
Read : O Rangreza: Exceptional beginnings are a welcoming change
One of the sweetest scenes last night were between Qasim and Sassi. We loved the way Qasim would glance at Sassi, depicting a man in love. The dialogues were powerful and emotional at the same time with a background score that was spot on. But then Sassi being Sassi had to spoil the entire romance, insulting Qasim and reminding him of who he was.
Bilal Abbas Khan and Sajal Aly have a brilliant on screen chemistry and can safely be termed as the hottest onscreen couple at the moment. Nauman Ejaz is excellent and even Isra Ghazal is evolving as the doormat wife with each episode. Kashif Nisar has extracted Sajal Aly's true potential with his direction skills and of course Saji Gul's script is as interesting as ever.
All in all, O Rangreza is an addictive play with all the right elements. If you're not watching it now, try and give it a look and you'll be hooked just like us.