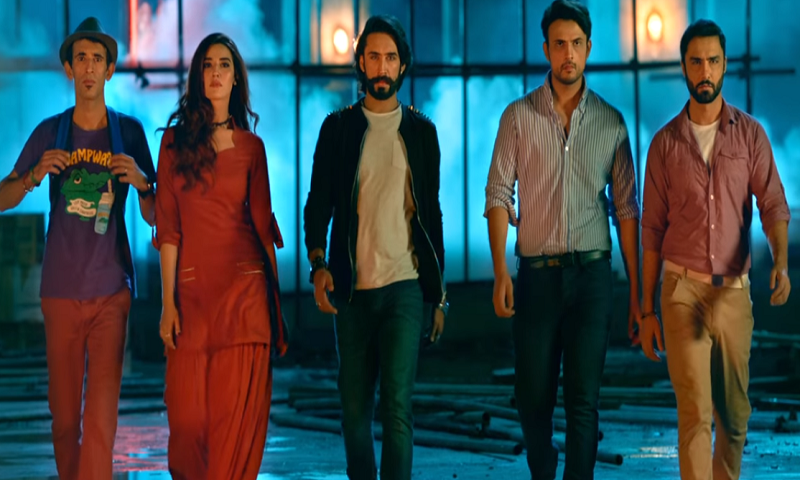 There is exhilarating energy, passion and thrill, all wrapped up in Parchi that unfolds this winter. With the teaser out just now, we're mind blown with the overall feel of the film. It's as badass as it can get!
Hareem Farooq as the gangsta lady owns the entire one minute teaser. Its rather exciting to see Farooq shun all the glamour and become a hooligan of a woman she's playing!
Bash (Ali Rehman Khan), Saqlain (Ahmed Ali Akbar), Bhola (Shafqat Khan), Bilal (Usman Mukhtar) and Emaan (Hareem Farooq) together, are here to set the scores straight. The new avatars the actors have donned for the movie are exciting. One is anticipating the roles to unfold further more than ever now.
With a cast that exudes energy, youth and vibrancy, Parchi, even if a satirical take on the cursed infamous 'parchi' we all know about, is going to be one full house 'paisa vasool' film.
The crazy rock background score of the film complete with the headbanging guitar tones has impressed us. Gelling well with the hues and tunes of the film, the eclectic mix of music from Parchi is another thing what we're looking forward to.
The multi-talented Osman Khalid Butt to turn choreographer for Hareem Farooq starrer 'Parchi'
From the scenes to the arrangement, everything has come spot on with Parchi's teaser. This Parchi has got some serious weight, dude! With the one minute teaser intriguing us to the core, we're more than eager to witness the trailer as soon as it comes out!
Unfolding this winter, keep your eyes out for Parchi because you might have to empty your pockets; but in the theatres this time.