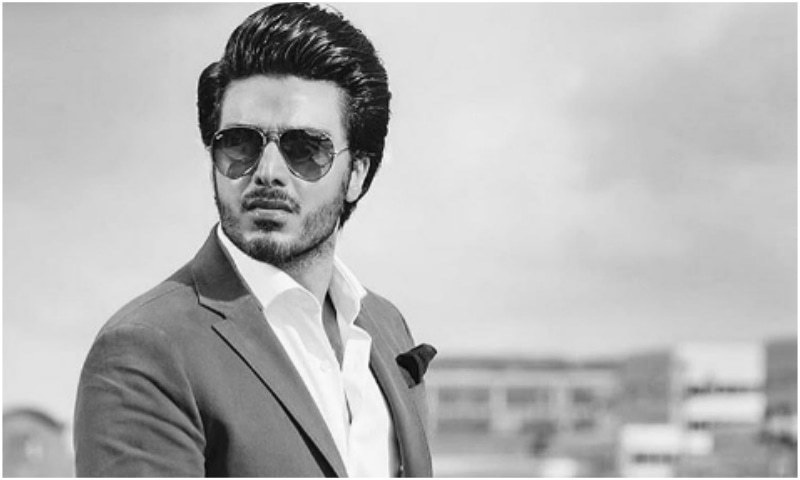 Men need to realize that along with love and support a woman wants to be respected, valued and appreciated: Ahsan Khan
So Ahsan Khan just bagged the Best Actor award for Udaari at the IPPA awards; but that's surely no surprise! Ahsan Khan has always been the industry's chocolate boy who we've all grown to love and adore as an actor. In contrast to his usual 'Hero' characters, Ahsan's malicious performance in Udaari most definitely has all eyes on him for the next different character he will bring to life in his upcoming projects.
Ahsan's journey as an actor has truly been awe-inspiring, but that's not the only reason HIP was eager to interview him. Read more to feed off of Ahsan Khan's brilliant mind that'll leave you rejuvenated and inspired!
Women empowerment is a notion our society to date struggles with;how can Pakistani men aid in 'empowering women'?
Ahsan Khan: Pakistanis need to do a whole lot to empower women. A whole hell of a lot! Men need to provide women with safe and secure environments both at home and at work. They need to support the education of women and believe that women are capable of being independent strong and productive. Men need to help break stereotypes in the workplace and let women take up jobs unavailable to women presently. They need to encourage women to enhance their leadership skills, involve them in decision making, men should be aware and follow Islamic rules that provide women with rights. Most importantly, men need to realize that along with love and support a woman wants to be respected, valued and appreciated.
As a father yourself, what advice would you give to parents on how educate their children about 'child abuse' during their prime years?
Ahsan Khan: I would advise them to build a very strong and effective channel of communication with their children. Sexual abuse goes unnoticed and more importantly un-discussed primarily because children feel uncomfortable talking about it with their parents. Parents must make sure to initiate such discussions so that their children can easily discuss any issues as dreary and distressing as sexual abuse. Parents should firstly educate themselves so as to pass on the knowledge and awareness to their children about the recognition and prevention of sexual abuse of children. Help can be taken from numerous knowledgeable books and awareness videos which are readily available. Let me share some of my personal favorites on this topic which I consider essential reading for all families; Dave Pelzer's 'A Child Called It', One's Child Courage To Survive' , Lindsey and Justin Holcomb's 'God Made All Of Me: A Book To help Children Protect Their Bodies' and Cynthia Crosson-Tower's 'Understanding Child Abuse And Neglect'.
You're evidently a risk taker for playing the negative role in Udaari; what fueled you to adhere to 'social responsibility' instead of prioritizing your 'celeb rep'?
Ahsan Khan: I am a professional actor dedicated to my craft. Until and unless you do not move out of your comfort zone and take risks in the form of challenging roles you cannot grow as an actor. Udaari was offered to me at a time when I had already done roles as a positive hero in countless dramas. I had explored the entire spectrum of likable characters in several TV serials. The roles I had done in the recent past had not only brought about fame and fortune but a lot of respect to me. It was high time I proved to myself and to my audience that my range as an actor was not limited to ordinary positive roles. I knew that at this point of my career I was all set to play a complex negative character and Imtiaz Sheikh fit the bill perfectly.
They say love comes in the way of success; in your opinion how is that common belief null and void?
Ahsan Khan: Let me tell you that love is what makes life valuable and worth living. It definitely does not come in the way of anything worthwhile!
What vital role do siblings play in one another's life and how have your siblings been your strength throughout your journey?
Ahsan Khan: I strongly believe that siblings provide warmth, companionship, love and a healthy rivalry. They help make one's childhood as well as adulthood blissful. Most importantly, they bring out the best in you by encouraging you to compete, contest and excel. I have two brothers and two sisters; they are fun-loving people who made my childhood journey truly pleasurable. They are now immensely loving uncles and aunts to my three children and play and important role in their education and upbringing. I can always fall back upon them for support, guidance and advice. In show-biz it is extremely difficult to find true friends. Fortunately, my siblings have always filled that void. I never really needed to look elsewhere for friendship.
Ahsan Khan to host a one of its kind game show for children in Pakistan
It's not just women who are objectified by the media; men are too. How can the younger generation be made to see that objectification is not 'okay'?
Ahsan Khan: The objectification of both men and women needs to be examined and addressed according to the level of tolerance in a society. It is not beneficial to only educate the younger generation about the unacceptability of objectification; instead we must build an overall society that values the unique qualities, attributes and skills of its members. This can only be done when regardless of age and gender everyone is educated to believe that treatment of every member in the society with dignity is mandatory. There is no harm in appreciating someone physically as long as physical beauty is not transformed into a commodity. People from all professions need to stand against the objectification of people in general and start treating men and women with respect according to their inner qualities and skills. Once the society unites to this mindset it will be understood that objectification is not acceptable.
We know your love for literature,quote your favorite character's line and tell us why!
Ahsan Khan: It has to be the last line from Margaret Mitchell's American Civil War novel, 'Gone With The Wind': "After all, tomorrow is another day." Mitchell's beautiful, strong and wily heroine, Scarlett O'Hara's famous line represents a passionate, escapist and relentless optimism that I find very charming. I love the line!