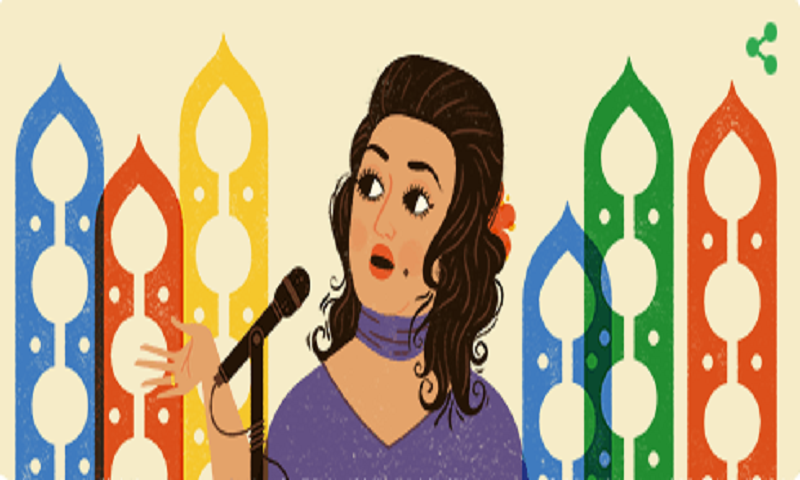 Noor Jehan passed away on December 23rd, 2000, but her music still lives on today in the hearts of many.

The Queen of Melody, Madam Noor Jehan, lives on in the hearts of many. Her career that spanned more than six decades gave us evergreen melodious songs that still vibrate in our hearts, even 17 years after the Queen's demise.
Malika -e-Tarannum ( the Queen of Melody), was the title awarded to Noor Jehan for her exceptional voice quality and the untiring contributions she made to the music industry in Pakistan during her career. Noor Jehan recorded over 10,000 songs in various genres and each one had an exquisitely unique quality of its own. It was during the war of 1965 that Noor Jehan, intent on her mission to build up the morale of the Pakistani army, recorded 12 inspiring songs for the brave soldiers, those which give us goosebumps even today.
Where the Queen resides in our hearts, it's great to see the world acknowledges her contributions to the music industry as well. Google today pays tribute to the Malika -e-Tarannum, honoring her with a doodle on the homepage for her birthday today.
The search engine giant has also placed a link "Explore the life of Noor Jehan " with the doodle, allowing users to get an insight on the beautiful and full life Madam Noor Jehan lived. Her personal life, work, achievements and never seen before images shared by close family are also featured in the write up on the website.
Read : Google pays tribute to Edhi
Noor Jehan passed away on December 23, 2000, due to a heart failure but her music still lives on today. in the hearts of many.
The family feels the loss greater than anybody else. Google paid a tribute but it's Madam Noor Jehan's family who continue to miss her amongst then. Her much loved grandson, actor Ahmed Ali Butt, shared his feelings with his fans on social media,
" Madam Noor Jahan was and always will be one of the greatest our country ever produced. She gave it all to her country and never looked back, I am lucky and proud to of her bloodline. May Allah bless your soul always".
Sharmeen Obaid Chinoy was also touched by Google's gesture ,
Alexandre aka Sikandar Rizvi also shared Google's doodle with his friends on social media, reminiscing about Noor Jehan, his grandmother supreme.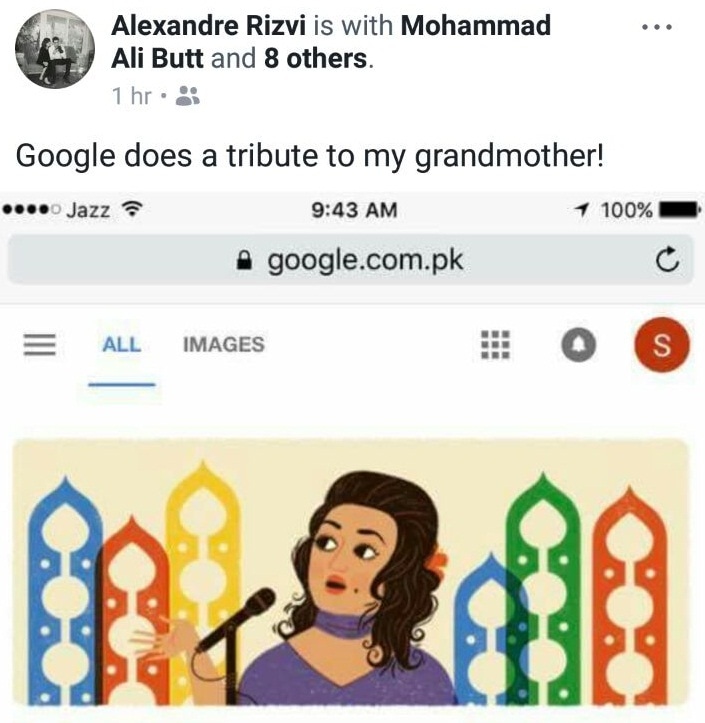 Madam Noor Jehan continues to live amongst us in her hearts. The Queen of melody holds the record for having given voice to the largest number of film songs in the history of Pakistani cinema and is thought to be one of the most prolific singers of all time, alongside the world famous Lata Mangeshkar. Noor Jehan has also been the recipient of two life time achievement award, the first in 1987 while the second an honorary award in 2002.