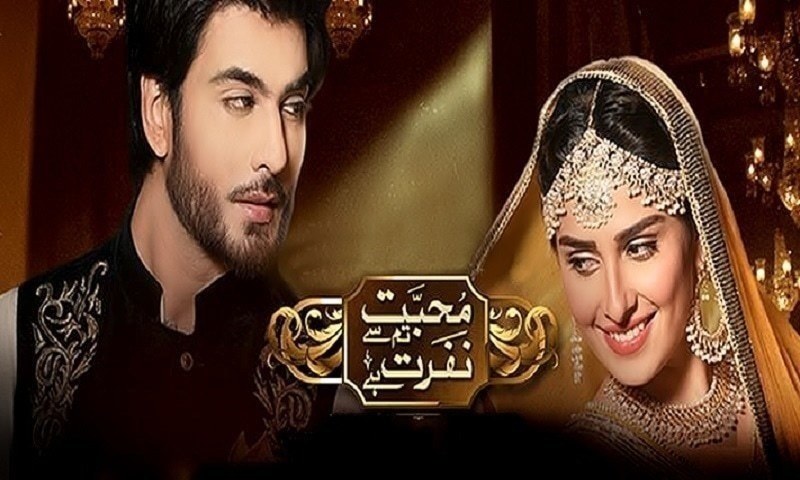 We stopped watching Mohabbat Tumse Nafrat Hai somewhere along the 13th episode but still tuned into the drama every now and then to just know where the story was headed. Where everything was blank just a few episodes ago, Mohabbat Tumse Nafrat Hai has now made a massive comeback because the developments which we had been waiting for, have finally come about.
It was during one of the conversations with Imran Abbas, that he asked us to hold onto Mohabbat Tumse Nafrat Hai because there would be significant milestones in the play that will shock us and yes, they have now arrived. The drama has picked up pace and is giving us one monumental blow after another. We're finally getting to see the masterpiece that Farooq Rind and Khalil-ur-Rehman Qamar claimed to create.
Let's give you a little background first. So Maheen and Waqar developed feelings for each other and the story simmered down to both getting engaged to be married. In stepped Jia and doctored around with Maheen's diary and it was on the wedding day that Waqar found it, only to discover the changed enteries that Jia made pretending to be Maheen. And that's when he left, leaving behind a letter never to be back again. Maheen was left alone, reading Waqar's letter, who in his heartbreak had written as if she had deceived him and he wouldn't let her win ever.
So what happened this week?
We got to know that Maheen was the one who discovered the letter and told everyone about it. Being in line with her character, she would not let Waqar destroy her and therefore moved on there and then asking Gulrez to marry her. And poor Gulrez, he got what he wanted but never had a say in the entire ceremony. Maheen was in total control of the situation and it seemed that she left no choice for Gulrez to ask a question before he said Qabool Hai during the nikkah.
We felt bad for Gulrez because even though the guy loved Maheen from his heart and soul, he just got her in his life in a pretty awkward situation. And now we're wondering what happened to him as he died. We saw Maheen's heart wrenching scenes when she visited Gulrez in the hospital, especially Gulrez's 'hath mat churao, mar jaon ga', but it was Waqar that made us cry. Imran Abbas, on learning from Munshi, that Gulrez was dead, delivered spot on. We've already cried with the actor while in Khuda aur Mohabbat, and this time he made us hold our hearts while he wept over Gulrez's grave in the graveyard.
We know Waqar took the diary with him when he left, so we have some hope of him and Maheen ending up back together once things start to settle down. The drama is building towards its climax and we're for one eager to know if it has a happy ending or not.
Mohabbat Tum Se Nafrat Hai still offers no significant development
Ayeza's character has matured with time and we're liking her aged look. Imran Abbas as Waqar is flawless. The guy kept us hooked for 13 episodes and now again, even with a developed story line, we look forward for his performance. Shehzad Sheikh as Gulrez is again phenomenal in his portrayal of the character who seeks to deny himself the happiness for Maheen's sake.
Each and everything in this week's episode was spot on. We're eagerly looking forward to next week's episode just to find out the missing links between the past and the present day. Stay hooked to this space to read our take on Mohabbat Tumse Nafrat Hai next week.