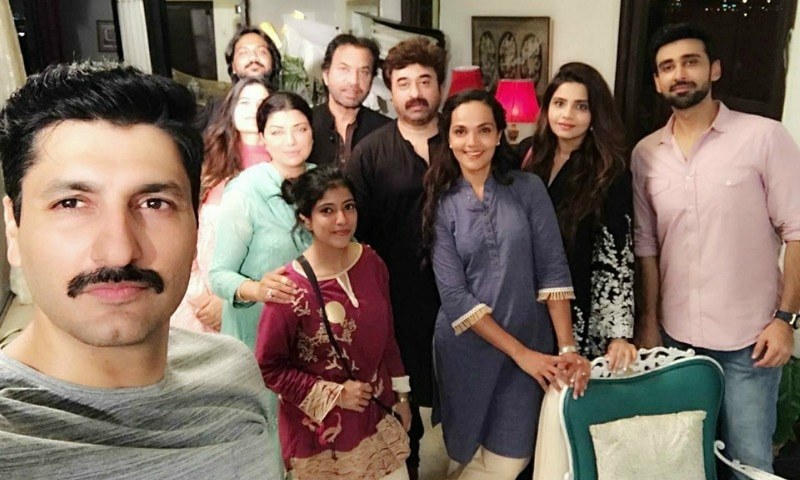 "Directed by Yasir Nawaz, the play also stars Sami Khan, Mansha Pasha and Syed Jibran," said producer Sana Shahnawaz.
These days we are spoilt for choices when it comes to television dramas and the credit for that goes to the new breed of producers who aren't fans of the typical Saas - Bahu saga and feel that the audiences have moved past that phase.
One company which aims to tell varied stories is Next Level Entertainment, owned by Sana Shahnawaz , Samina Humayun Saeed and Tariq Shah as in a short span of time the production house has given us plays like Mann Mayal and the currently running Tau Dil Ka Kya Hua, which is very much a modern day tale.
So naturally when we heard the team was gearing up for another production we were thrilled because our sources had told us that it would have Aaminah Sheikh and Sami Khan in the cast!
With the drama very much happening, we got in touch with Producer Sana Shahnawaz and asked her all about it and this is what she told us,
"The title at the moment is Qarz and it is being directed by Yasir Nawaz"
Read : Zahid Ahmed & Ayeza Khan pair up for Sana Shahnawaz's next
After having directed Mehrunisa V Lub U we already are looking forward to the play as we are sure Yasir Nawaz will do a splendid job. And it seems that even Sana is a fan of Nawazs work as she declared in her social media post.
"Such a thrill to have one of the finest of our industry directing a drama for us at Next Level Entertainment! Yasir Bhai I can't wait to see the visual delight you will make of this play! Super pleased to be working with you"
With the play having been written by Beinteha fame Rida Bilal we also got in touch with her to ask how was this drama going to be different from her debut play Beinteha and this is what she said,
"There are a lot of family dynamics and tensions involved in this one; but you are going to see almost as much romance as was seen in Beinteha ".
Glad about that since we are big fans of love stories , Sana did tell us about the title but also shared that it is not the final one yet!
"The working title at the moment is Qarz but it will be changed "
A joint venture of Next Level Entertainment and Humayun Saeed and Shahzad Nasib's Six Sigma Plus,the shooting has already begun and Sana shared with us the names of the whole cast as well.
"Besides Aaminah Sheikh and Sami Khan the audiences will also see Syed Jibran ,Mansha Pasha, Seemi Pasha , Mehmood Aslam , Shaheen khan, Sahiba and Ghulam Mohuddin sahib in the play".
The tentatively titled drama called Qarz is expected to go on air by December / January only on ARY Digital. And with a dream team like this one, we honestly cant wait to watch it as it marks the return of Aaminah Sheikh on our television screens and that is enough a reason to be excited!