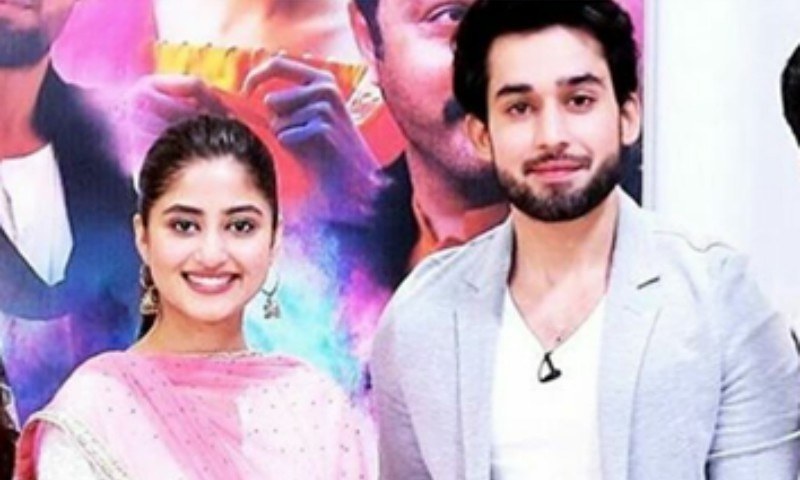 One of the highlights of O Rangreza is the sizzling onscreen chemistry between Sajal Aly and Bilal Abbas Khan.
O Rangreza has us glued to our screens since the day it started airing. With the quality entertainment we're receiving through O Rangreza, one certainly feels lucky as a drama fan to be alive in this era because the industry only keeps flourishing. Without a doubt, O Rangreza, with Saji Gul's script, Kashif Nisar's direction and its brilliant execution, is a masterpiece.
Each and every actor in O Rangreza is doing a stupendous job. Even if Sajal Aly as Sassi takes the first place, Nauman Ejaz as Khayyam matches her step for step. And of course Bilal Abbas Khan is a delight onscreen.
Read: O Rangreza episode 8 review: Will Sassi's complicated personality ever be understood
So what went on in the latest episode of O Rangreza? Well apparently a lot! This week, we got to see the soft side of Sassi, who too gets emotionally hurt.
With Khayyam (Nauman Ejaz) having announced that Sassi is to be married off, the girl is still curious about who is going to be her groom. Although we know that it's Qasim (Bilal Abbas Khan), Sassi just doesn't know about it as yet and wants to find out as soon as possible. On the other hand, Mammu (Isra Ghazal) knows how much Qasim loves Sassi and is therefore happy for her nephew and her daughter.
However, since Sassi doesn't take things seriously, she thinks of the whole wedding as a charade and stays her usual self. And upon seeing her take things easy, it is her mother who asks Sassi to star respecting Qasim as he is going to be her future husband.
Sassi is shell shocked! What touched our heart, were the tears in her eyes as she confronts a rather scared Qasim. She never expected him to lie to her but is now heart because he never told her about anything. Sassi is beginning to show another side to herself, not stubborn and angry and we're rather loving the new soft girl.
On the other hand Khayyam still wants to marry Sonia Jehan (Sana Fakhar). Sonya is an actress and yet Khayyam loves her, but at the same time, he does not want Sassi to become an actress. Khayyam portrays the double standards of this patriarchal society we live in and Nauman Ejaz is doing a splendid job with the role.
Read : HIP Reviews: 'O Rangreza' has the potential to become a chartbuster
On an ending note, Qasim saw Sassi's reaction when she discovered the truth about him and then witnessed her sneaking out in the middle of the night. We're now left wondering if Sassi has left home or if she's thinking about something drastic.
If you look at it, Sajal Aly and Bilal Abbas Khan are amazing together. In fact their on screen chemistry makes O Rangreza, a play worth watching. We really like how these two talented actors, despite working with veterans like Nauman Ejaz, Sana Fakhar, Omair Rana and Irsa Ghazal still manage to keep the audiences focused on them throughout.
So another interesting episode ends this week. Don't forget to watch O Rangreza every Friday at 8 pm only on HUM TV, because who knows what might happen next.