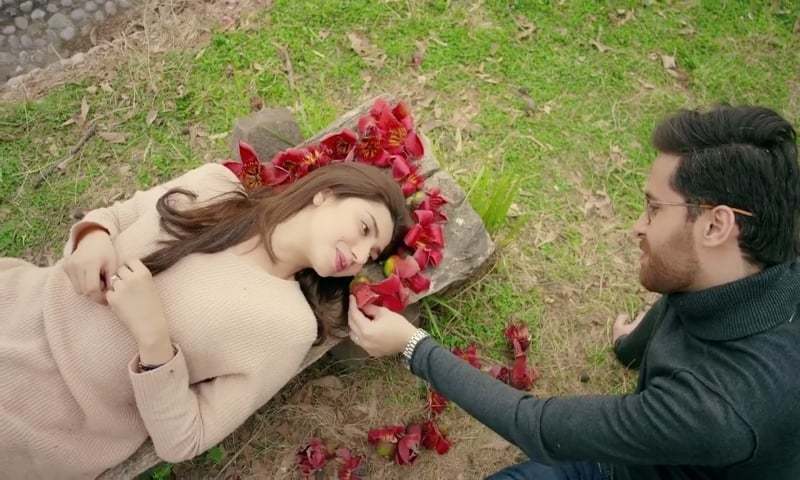 Unlike the teaser, Sambhal Sambhal Kay explores the soft, romantic side of Mahira Khan and Haroon Shahid

Unlike the teaser, where she pummeled a man to death, Mahira Khan is all mushy, romantic and smiles with her beau, Haroon Shahid, in the latest song from Verna. Sambhal Sambhal Kay, officially the second track to be revealed from Mahira Khan's upcoming movie, explores the lady's soft feminine side, and leaves one wondering as to what might have happened to transform this beautiful lady into an angry monster that could kill.
The music arrangement and lyrics for Sambhal Sambhal Kay are pleasantly refreshing and talk about happy times. The song has a very heart warming feel to it all over and reminds you of sunny days with memories that make you smile. Zeb Bangash and Haroon Shahid together have created a beautiful duet with Sambhal Sambhal Kay and yet there's a teeny bit of a problem. Although simple in its musical arrangement and lyrics, Sambhal Sambhal Kay lacks good recall value and perhaps that's where the song might lose its appeal.
The picturization of Sambhal Sambhal Kay will, however, take up a permanent place in your mind. The visuals, the color grading and of course the locations are absolutely wonderful. Mahira Khan looks like a million dollars, all feminine smiles and her charming persona, while Haroon Shahid looks like a man very much in love.
Sambhal Sambhal Kay might have nothing to do with the teaser, but it certainly leaves one wondering about the transformation this lady will go through in the film. Currently, we've experienced a rap song and now a romantic number from Verna. The music seems experimental and therefore we hope it turns out good rather than a confused combination of various genres.
Mahira Khan proves she's indestructive with her powerful teaser for Verna