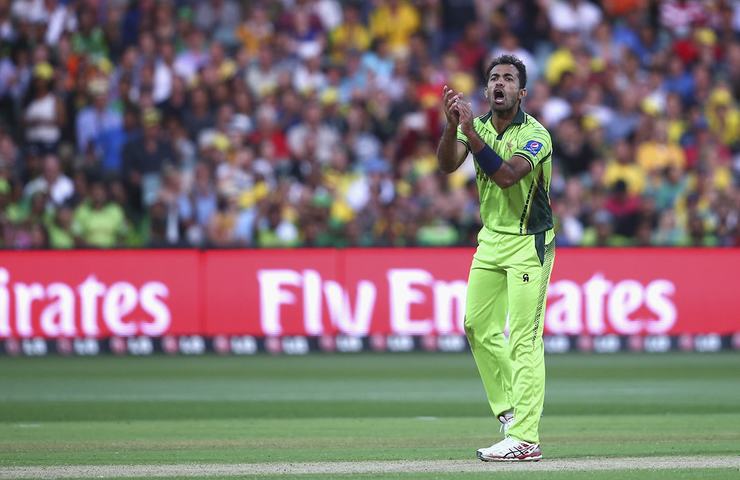 Wouldn't it be wise to select different bowlers for white ball and different for red/pink ball?

It's a familiar term, 'good taliban, bad taliban'. Probably clear by the very frank admission of civilian rulers of our state, that it just isn't a term but a state policy. How that policy has impacted lives of millions in the region is not the topic of my story. I am just drawing parallels of this policy with Wahab Riaz. I have written before on this subject too, titled Good Wahab, Bad Wahab. But I feel, it doesn't do justice to man. The adjectives, good and bad do not have the weightiness to define the differences b/w the peaks and dips in his performances.
Cricket Diaries: Good Wahab, Bad Wahab
7 mins and 30 seconds, it took Wahab to finish that over. You know which. His 19th over of the innings. The aborted run ups, will become internet memes. Made, shared and laughed at. Its unbecoming of an international cricketer. Its humorous, for those watching at home and also for the coaching staff sitting in the players's balcony. But it's also tormenting. Tormenting to see someone, who Pakistan depends upon fail so miserably. In the show full of self praise 'Game on Hai', once Shoiab Akthar lamented the fact that Wahab Riaz doesn't have a set run up. In an all Shoiab style he demonstrated with his hands, how haphazardly Wahab runs in to bowl. All that kind of reran in my mind when Wahab was struggling so badly yesterday. It is unfortunate that Wahab's atrocious moments have come in big games. Like against India in that Asia cup game, or in the Champions Trophy game or yesterday, when a 7-year unbeaten record is on stake. His detractors will say that there have been many such games as well. According to them Wahab's brutal spells have been too few and far between.
One could count them, literally. But can you? The role of the enforcer, hasn't really captured the imagination of our cricket followers. You can't really blame them either. We haven't had many bowlers who have used this type of strategy. Pakistan fast bowlers bowl full and straight and make the wickets tumble. The target isn't the head but the toes of the batsmen. This was a change. A change which is hard to understand unless you are a keen student of the game. The heavy ball, isn't really an easy thing to explain. Wahab's 4 wicket spell in the 2nd test against England in 2015 changed the course of their series. Pakistan had almost lost the 1st test. 2nd test was meandering along before that fiery burst by Wahab, brutal Wahab. His spells of reverse swing in the 1st and 4th test against England, were special but not spectacular. He almost had England on the mat in the Edgbaston test but for dropped catches. We remember the Sohail 5fers, Yasir's 10fer and Amir's return. Wahab's breakthroughs aren't remembered as vividly. His role remains under appreciated and badly managed.
This brings me to my 2nd point. After the 1st day play, Azhar Mahmood the Pakistani bowling coach was at pains in trying to explain that how playing too much white ball cricket has impacted on the performances of the bowlers in tests. Now that we have an extended pool of faster bowlers, wouldn't it be wise to select different bowlers for white ball and different for red/pink ball? Financially it is hard on the test specialist (Like Rahat Ali), but it's the board job (and on a larger front ICC's) to ensure that these players are compensated or Test cricket will not survive.
Wahab Riaz certainly has the pace and awkward bounce to unsettle batsman. But with 4 men attack and no reverse swing, he has to bowl medium pace. Pakistan team management has to use Wahab selectively a bit like Mitchell Johnson. Would it be wise to use him just for test match cricket? For all the effort, heart and soul Wahab has put in, he deserves a series like the one Mitchell Johnson had in Ashes 2013-14. He has the capacity to instil fear in the batsman. Pakistan should use it.