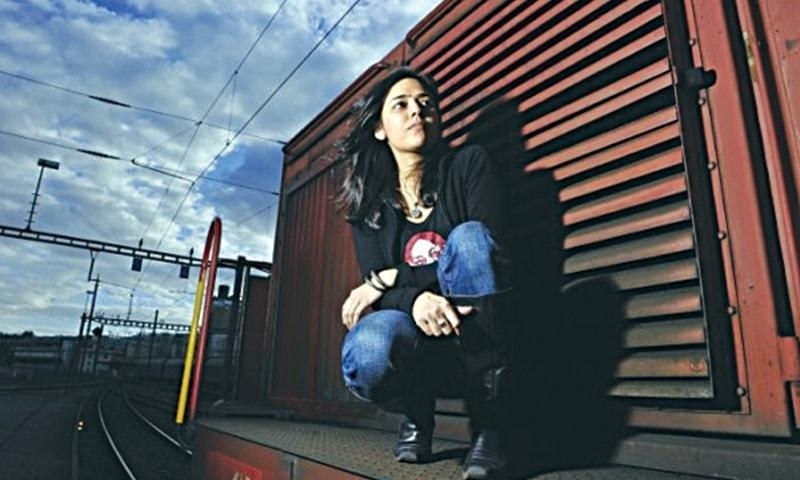 Mehreen Jabbar talks to HIP about fresh talent, the importance of script and realism while directing
Mehreen Jabbar is a gem of our Pakistani media industry who's value cannot be expressed by words nor can her brilliant work be obliged to the validation of awards. Her masterpieces touch the heart of all her viewers; story lines are forever etched onto memory and characters are unforgettable. Pakistanis are ever so proud of Mehreen's work to be making waves internationally and being recognized on big, and I mean big platforms!
With 'Lala Begum' having bagged the Best Screenplay trophy at the 6th Annual Washington DC South Asian Film Festival (DCSAFF), the star studded film, 'Dobara Phir Se' is not behind in gaining international popularity with its 'houseful' screening at the Chicago South Asian Film Festival (CSAFFestival).
Here's an exclusive interview where HIP decides to dig deeper to find out how Mehreen brews her magic!
A few of your projects such as Jackson Heights and Dobara Phir Se showcase our Pakistani culture entwined with the Western culture and your work always has a balanced portrayal of traditions and values. As a director, how do you achieve the balanced portrayal of the East and West?
Mehreen Jabbar: I think the serials I have done in the US starting with Pehchaan in 2004 leading up-to Jackson Heights have dealt with a variety of themes and issues, of which most are rooted in the universal human condition. While some of them, such as Jackson Heights, is a story that dealt with immigration, the 'American dream', most of the other serials were stories about characters who happen to live in the US and who go through the experience of loss, heartbreak, career issues, coming of age and more. The reason I have a balanced portrayal is because regardless of having lived in the US for almost 14 years now, I have also constantly traveled to and worked in Pakistan several times a year during that period and so have tried to maintain a balance in my own life.
There's a powerful tide within our media industry bringing topics of social issues to our society's shore. Which social issue do you have a strong opinion about and would urge your director's vibe to create?
Mehreen Jabbar: I am so happy that finally some of our serials are focusing on issues other than marriage, two wives and in laws. Apart from social issues, I really believe we need to try and experiment with new genres in our drama serials. A majority of the story lines are still cliched and stretched out too long and the blame that is assigned by the channels and production houses is to the audience. It is assumed that any experimentation or not sticking to the regular formula will result in low ratings; eventually having a decline in advertising. I will not attempt to compare current US television, which is I think in its golden age, to ours because they are very different industries; but I do want to point out that Pakistan Television itself has a rich history of smartly written, character driven teleplays and TV serials. We have recently over the last decade succumbed to stories mostly rooted in the Urdu digest tradition. Our writers need to look deeper into South Asian, world, modern and classical literature to come up with interesting and engaging stories that can be both unique and entertaining. For me if I had to do a 'social issue' drama, I would probably want it to be on education and primarily female education amongst other subjects.
You've brought numerous female-characters to life with powerful and fierce auras; how were you able to do so subtly and what's the trick to not 'over-doing' it?
Mehreen Jabbar: I think the key to having well rounded and not black and white female characters is to treat them as human beings. The trend these days is to show characters, especially female characters, as mostly individuals which react or are victims. Very rarely do we see women with specific jobs or any interests, hobbies or passions in our serials. The majority are one dimensional and characterization is something seldom explored. Far too many characters have constantly pained expressions on their faces. I know that actors are wanting to challenge themselves. I am sure most of them are tired of playing the same old kind of role; so it's very important that firstly, channels open up to accepting fresh ideas and story lines and for writers to be encouraged to not just write the same old story rehashed and recycled in a hundred different ways.
Unfortunately, there are still some parents who look down upon their young pursuing a career in the media industry; what would you say to such parents and the younger generation who want to follow their dreams?
Mehreen Jabbar: The industry today is very different from when I first started. There are many more courses offered and some sort of film and/or TV studies in universities, not nearly enough at all, but more than the previous years. This means that the media is being taken seriously now as an industry where a viable career is possible. I feel that there are tremendous opportunities for people to widely specialize in the media industry; from production, assistant director, cinematographer, director, writer, actor and more. The more we get an infusion of fresh talent, the better it will be for the industry because new comers are from a generation exposed to cable, social media and have instant access to knowledge. We do need to have many more colleges offering media courses all over Pakistan that accessible to people from all backgrounds.
From a director's perspective; presently, what elements do our dramas lack which yields them to reach the standard of our yesteryear classics?
Mehreen Jabbar: Script. Script. Script.
There's a warm and positive energy created between your characters when friendships are depicted; what inspires you to create such affectionate vibes on screen?
Mehreen Jabbar: I think that has a lot to do with the actors and the material they are working with. My school of filmmaking has always been realism, to be as natural as possible with the least amount of melodrama. This is what I have always gravitated towards and those are the kinds of films I have always liked. I have been very fortunate to have worked with some of the best actors in the last 20 years and have learnt a lot from them.
Let's test your spontaneous director skills; how would you direct the introduction of a female character who's an aspiring journalist, can't hold her tongue (even it's for her own good) when injustice is done, and is incurably enslaved to her coffee addiction.
Mehreen Jabbar: Haha..that's a tough one without a script; but I would probably start with her talking to someone or on the phone giving a rant about something, maybe we just hear her voice as the camera tracks between the rooms of her house or apartment; eventually ending up on her banging the phone down and having a sip of her coffee looking content.