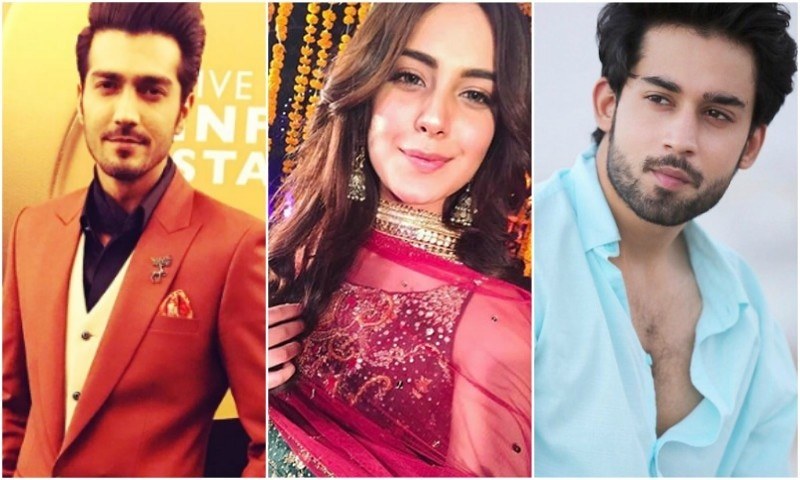 An iDreams production, Qurban is based on a script by Zafar Mairaj and is being directed by Ahmad Bhatti
Having made her debut in the industry with a Hum TV play called Kissey Apna Kahein in 2014, Iqra Aziz has indeed come a long way. Today Iqra is one of the most sought after actresses in town and one with immense talent as well.
Currently Iqra is owing the screens in Ghairat, Gustakh Ishq and also Khamoshi on channels spread wide. The girl with her innocent features and graceful style of acting continues to win our hearts. Iqra is intent on exploring but we sure do miss her cute pairing alongside Shahzad Sheikh inChoti Si Zindagi and so recently when we came across a picture of the two shooting together once again, we just had to ask Iqra what was going on?
Having caught up with her in the middle of a shoot, Iqra told us that she, along with Shahzad Sheikh and Bilal Abbas Khan, is shooting for a new play called Qurban.
Quite excited to hear that, we asked her a bit about her role and this is what Iqra shared with us.
"My character's name is Heer and she is a very confident girl. An only child, she is used to making decisions on her own but along with that she has a loving personality. As the story moves ahead Heer goes through many changes, those which will be clearly visible in her personality once the first episode goes on air."
Read:Rapid Fire: Iqra Aziz loves Instagram but hates a dirty room
Directed by Ahmed Bhatti who is also directing the pretty star in Ghairat, Iqra tells us that the script for Qurban has been penned down by one of our favourites, Zafar Mairaj. The drama is an iDreams production so we hope to see it on ARY Digital soon.
Talking further about Qurban , Iqra added a few interesting details about the play. "Qurban is a story about Heer who gets married to Shehzad Sheikh's character belonging to a feudal family. The guy is not like the typical feudals at all. Instead he is educated and open minded but is forced to come back."
"The couple was arranged to be married since childhood but due to circumstances Heer is forced into another nikkah. Why does that happen or whether it was the right thing to do, is what the drama will be all about," tells Iqra.
With Bilal Abbas Khan playing a role of a boy who is very hard working and honest it will be interesting to see how he fits in to Heer's life.
However, we did wonder what made Iqra say yes to the drama and so we questioned her.
"Because Qurban had Bilal and Shahzad in the lead and after Choti Si Zindagi it felt good to pair up with Shahzad again. Also the drama has been written by Zafar Mairaj and directed by Ahmad Bhatti; also it is an iDreams production and i share a good rapport with the team so I couldn't possible say no to Qurban," Iqra tells us.
The shooting for Qurban is still underway and the drama is expected to go on air anytime in November. Till then stay hooked to this space while we bring you more on Qurban.