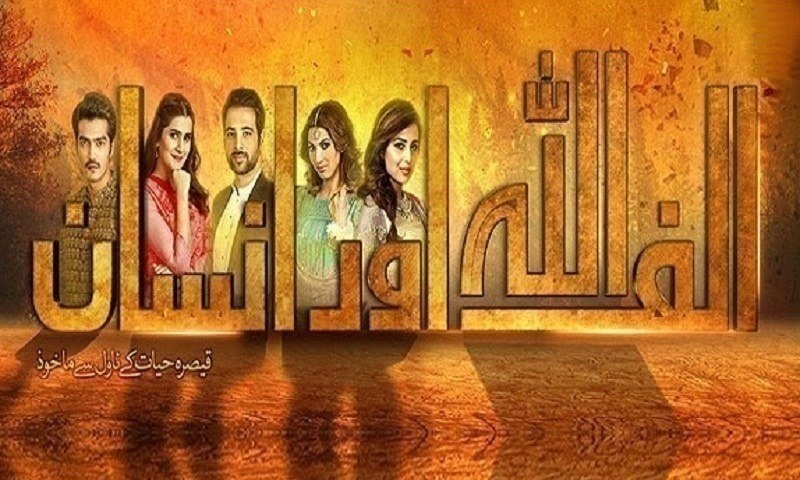 When the writer and director have creative liberty over the plot, why not cut loose ends and come to the climax?

We had been looking forward to this week's episode but as it turned out, Alif Allah aur Insaan is now being unnecessarily stretched. Where there were a few developments in the track this week, the overall effect was slow paced and downright boring.
The highlight of the episode has to be how Nazneen outright chose to be with Basit and told Shahzeb off straight. Mikaal Zulfiqar's composure and his stance in the scenes overshadowed both Basit and Nazneen and he came out as a clear winner for the audience, even if he didn't get the girl. Not that we wanted to see him with the bratty Nazneen, who still doesn't know why she want's Basit.
It seems like Nazneen is this spoilt child who insists on having something she is forbidden to, without knowing its importance and once she has it, she doesn't know how to treat it right. While Nazneen is now with Basit, it would have been better if the girl had shown some respect to his parents. She loves Basit, but in her sub-conscious mind she believes his parents to be the family servants she always had and that's how she is treating them all. Had she some true feelings for Basit, she would have respected his parents and sister, showing love, care and worry for them.
Moving on, Basit has now found a job in the same university as Zimmel. The lady is the talk of the town in the university and everyone seems hooked onto her. We don't get why Zimmel's divorce has suddenly become a matter of utmost importance. And why did she overreact when her friend told her about Shaheer's feelings for her. Like didn't Shaheer confess his feelings to her in the car on his birthday? The entire purpose of Zimmel's introduction to the story is still unknown.
If Zimmel has been introduced to carry the track forward, we're imagining some sort of an interaction between Basit and Zimmel. And perhaps this interaction will lead to Basit rejecting Nazneen, who has already left Shahzeb and also fought off with her parents, and thus Shammo's curse on Nazneen becoming a reality. But all these are our speculations for now, lets see what happens in the end.
Talking of Shammo, he has once again become Reena's best friend. Why doesn't Shammo understand that Reena uses him as her tissue whenever she is down and then throws him away while she's high. Reena talks her heart out to him and Shammo listens. Where we saw Imran Ashraf delivering Shammo's character potentially, it has now become a drag. Without doing anything substantial, Shammo is just there for Reena everytime she wants him. We just wanted to see Shammo's character explore his community further and have a stance of his own.
All in all, it was only Mikaal Zulfiqar's presence and his holding down Shahzeb, a highlight of this week's episode. Mikaal Zulfiqar is becoming a treat to watch onscreen, the actor is growing with each role he does. Kubra Khan and Shahzad Sheikh are currently just filling in their roles with added desperation and agitation respectively, and so is Nimra Khan. We feel the plot is now being unnecessarily stretched. When the writer and director have creative liberty over the plot, why not cut loose ends and come to the climax? What's the use of dragging a beautiful story to the point that it becomes a bore?
Alif Allah aur Insaan episode 23 review: Major developments this week!