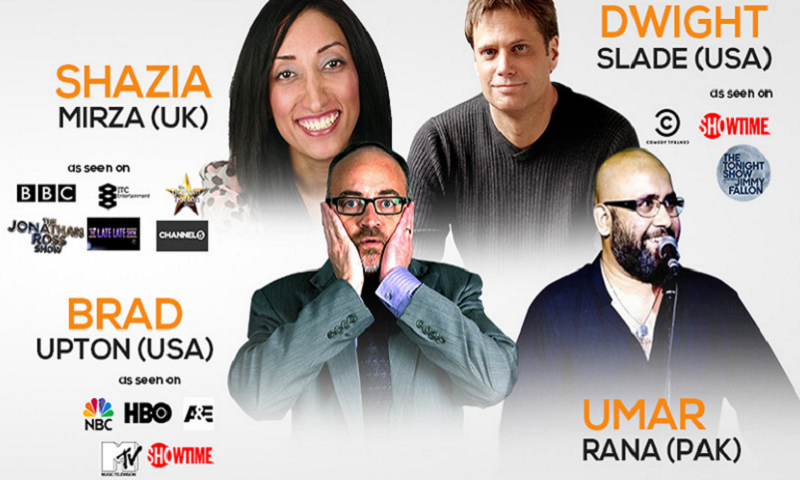 After four successful shows in the city, Comedy Masala is returning to Karachi for the fifth time from 19 – 21 October
The heat's certainly taking its toll on all Karachiites. There's gloom all around. But here's a perfect remedy to beat the summer streak and of course cheer up! Comedy Masala is returning to the city for the fifth time, and what's better than spending the time laughing amidst international comedy stars from around the world.
After its highly successful launch in February 2017, Comedy Masala has gone on to become an instant hit with the audiences in Karachi. Sold out shows in April, July and September are enough proof to consolidate the fact that Comedy Masala is the next biggest emerging comedy scene in Pakistan. Currently in Karachi, Comedy Masala is keen on expanding to Lahore and Islamabad all the while planning to add Dubai and Oman to its string of international destinations. Comedya Masala Singapore already having established itself as one of the most authentic comedy scenes in its region!
Comedy Masala keeps up the laughter streak with its summer shows
This time, entertaining Karachi will be three top comedians from the UK and USA. Top of the line is Brad Upton from USA, a stand-up comedian with more than 5000 shows around the world to his credit. The guy with the funny bones will make you laugh so hard, you'll forget there another expression you can use.
Following Brad will be Shazia Mirza from the UK; an award winning British stand-up comedian, Shazia knows humor unlike any other woman you've ever met. And last but not the least will be Dwight Slade from USA again. Having made remarkable appearances across the globe and earning five star reviews at the prestigious Edinburgh Fringe and the Montreal Just For Laughs Festival, Dwight will pull up his socks to make Karachiites laugh like never before.
This time too, Comedy Masala is focused on putting up 5 performances on three days, from the 19th to 21st of October in Karachi. All 5 shows will be hosted by Comedy Masala founder & Pakistani comedian, Umar Rana.
After putting up massively successful shows around the globe and of course four hits in Karachi, Comedy Masala is returning to the city to spice up the comedy scene once again. If you have already not reserved your tickets, go ahead and visit Comedy Masala International, official website, for your bookings right away.