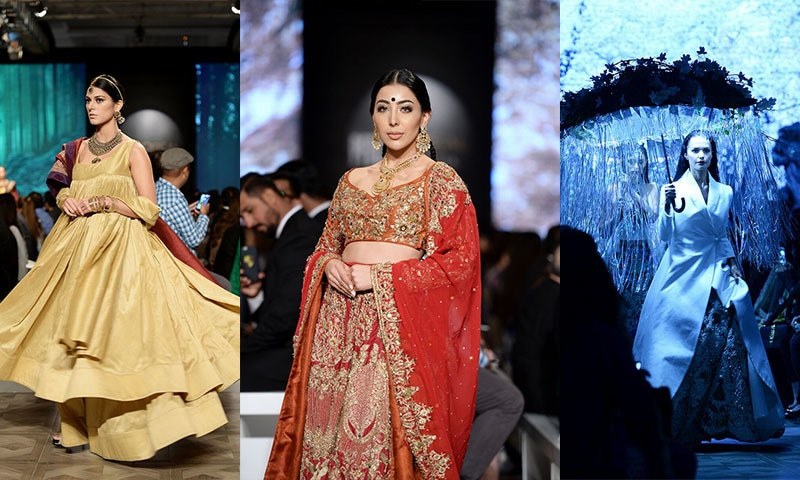 You won't look at bridal wear the same way again.

The Pakistan L'Oréal Bridal Week (PLBW) 2017 kicked off yesterday in Lahore, at the Nishat Hotel. Day 1 was a night full of stars and a complete package of what to expect in the coming days. Although the hassle being created at the event due to a little mismanagement was a let down, the show itself stole away all the rigidity of the moment.
The show opened with Reame Malik in collaboration with Wasim Khan, as Mehreen Syed walked the runway in a flared midnight-blue gown. The entire collection was full of bold monotones and bejewelled accessories. The showstopper and former film-star, Resham looked refreshingly exuberant flaunting the way she looked.
The next line up by Shamsha Hashwani was perhaps the best. The cuts, embellishments and ensembles put in fusion with conventional designs was a delight to watch. The feisty Humaima Malick showstopping in her divus attitude made the collection stand out.
After a brief break and some small talk, Shizza Hassan, opened the second show, bringing back some serious vintage vibes leaving the crowd nostalgic. The models looked absolutely stunning, fit to sheer perfection with the gaudy ornamentation and striking designs.
The last showcase of the night was by none other than the maestro, Ali Xeeshan. The man undoubtedly created magic yet again and left the crowd speechless with his ostentatious concept and theatrical compositions. Gifted photographer, Abdullah Harris walking the ramp for Ali Xeeshan and their muses being followed by their paintings wearing the collection, drawn on massive canvases by the designer extraordinaire himself, was the cherry on top of the show.
HIP's Pick of the day from PLBW Day 1 would undoubtedly be Ali Xeeshan's extravagant collection which was not just a show but more of an experience, which left an entire imaginative influence on one's mind. Enigmatic, and larger than life, just how Xeeshan likes it. Let's see what the next two days have in store for us, for now, the first day has left us with our fingers crossed with sheer anticipation.