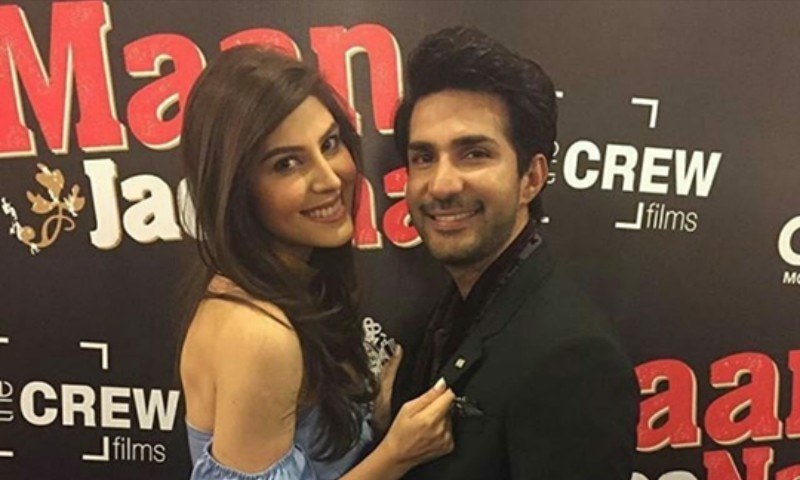 "Since this one is a love story, the producers wanted it to hit cinemas, in the month of love" Adeel

The outcome and interest in Pakistani films is increasing day after day and that's a rather good thing as it motivates the film makers to do better and better. Intent on bringing good content out, the industry patrons and film makers are exploring one genre after another. This time, film maker Mohammad Khalid Ali with Aabis Raza as the director is all set to bring about a beautiful film Maan Jao Na for the masses.
The film, starring Iranian beauty Naaz Nourozi and the very talented Adeel Chaudhry is all set to hit the cinemas in February 2018.
Earlier slated for a December release, Maan Jao Na was delayed for inexplicable reasons but the good thing is, this coming of age, romantic and comic flick will release in cinema houses across the country on 2nd February next year.
Yes guys, the news is true, as posters have now come out with the release date mentioned. The beautiful poster depicts Naaz and Adeel very much in love and of course we're excited to see how the two will translate love in their language along with a very strong supporting cast.
Read: Here are all the fun facts you need to know about 'Maan Jao Na'
Maan Jao Naa will be releasing under the banner of Hum Films and has been produced by Mohammad Khalid Ali with Aabis Raza as the director.
Written by Asma Nabeel and Ahsan Raza Firdousi, the movie is based on the struggles of a group of friends and their transition from a carefree university life into the realms of the practical world.
With us wanting to know why the shift from December to February, we got in touch with Adeel Chaudhry and this is what he shared with us ,
"I think that since this film is a romantic love story, the producers wanted the movie to hit cinemas in the month of love, February. Also I personally feel that is the right time for Maan Jao Na release too,"
Upon being asked how excited he was for the movie, Adeel said,
"I am very excited because this is my debut film in Pakistan and it is great to perform in front of your own people. Also the movie has a bit of something for everyone. With the industry growing and the movie releasing, I feel through Maan Jao Na I can put a little bit of my share in the cinema's revival."
Besides the two leads, the movie will also star Ayaz Samoo , Hajra Yamin, Ghana Ali, Asif Raza Mir, Asma Abbass, Naeem Haq and Nayyer Ejaz in significant roles.
With Maan Jao Na all set to release on 2nd February 2018, we at HIP would like to wish everyone associated with the movie, all the very best and here is hoping that it turns out to be a great hit!