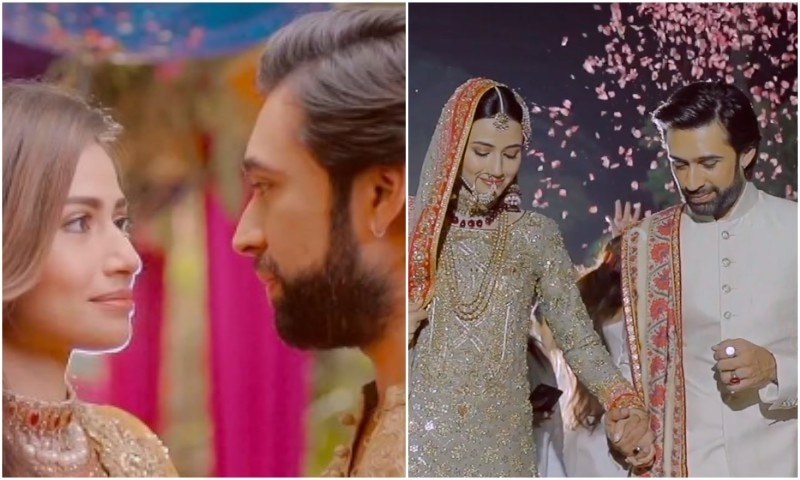 Starring in designer Nomi Ansari's fashion film of the year, Sana and Ali Rehman Khan give us heavyweight wedding goals

Ever since Sana Javed has starred in Mehrunisa V Lub U there has been no looking back for the lady. Starring in high end projects Sana is all set to make a comeback on television with Khaani opposite Feroze Khan on Geo. But before that's here's Sana in an avataar for designer Nomi Ansari, that'll blow your mind away.
Starring alongside the handsome Ali Rehman Khan, Sana Javed, looks absolutely ravishing and drop dead gorgeous in Nomi Ansari's Qubool Hai, the ultimate fashion film of the year.
From the sizzling chemistry between Ali Rehman Khan and Sana Javed, to their elaborate and absolutely beautiful wedding outfits, each and everything is on point in this video. If you're getting married anytime soon, Qubool Hai is your inspiration; if you're not, the video will make you want to say your vows right away!
"Colour is my forte," admitted 'The King of Colour' Nomi Ansari
As winters approach, Pakistan's national shaadi season gears up to begin. And at this time, Nomi Ansari's Qubool Hai comes off as a blessing in disguise for all those looking for high end outfits for their special occasions.
Coming right from the palette of the King of Colors himself, Qubool Hai is your short exotic fashion fantasy come true. Not to forget, Sana and Ali look absolutely gorgeous together, giving us hopes of a project together soon.