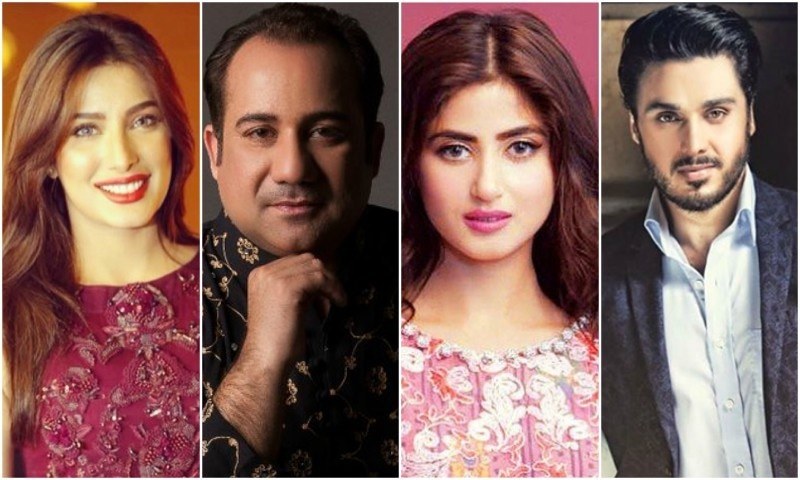 Marking the 9th anniversary of the show, this year PAA promises to be bigger and better than ever

Its comes as a great honor when Pakistani talent is celebrated abroad. With IPPA recently celebrating and honoring the spirit of Pakistani talent and media industry in London, its now time for the 9th Pakistan Achievement Awards (PAA) to take place in the UK, once again.
Launched in 2009, by the UK Times London, to identify and recognize the immense contribution that Britons of Pakistani heritage are making to the mainstream British life, PAA seeks to celebrate the true spirit of talent. Marking the 9th anniversary of the show, this year PAA promises to be bigger and better with a string of high end celebrities attending the show from Pakistan itself.
In attendance at PAA this year will be Pakistan's top ranked celebs, including Sajal Aly, Mehwish Hayat, Ahsan Khan, Faysal Qureshi, Rahat Fateh Ali Khan while Ahmed Ali Butt and Ayesha Sana will host the event, all set to take place on the 10th of December 2017.
One naturally gets excited with such big names attached to an event. Therefore an insight from close sources is a must. Here's what Ahmed Ali Butt had to share regarding him hosting the prestigious PAA in London.
'It is a great honor to host the 9th Paa this year alongside Ayesha Sana. I feel that its great we get a chance like this to go on an international platform and represent our country. After Punjab Nahi Jaungi receiving massive success in the UK, more and more people are eager for Pakistani cinema and therefore the Pakistan Achievement Awards is an ideal effort at this stage for the growth of the industry."
Read: Ahsan Khan wins Popular Actor at the Pakistan Achievement Awards
Every year the PAA is dedicated to important events, person or a cause in Pakistan. Last year the event honored the great humanitarian Abdul Sattar Edhi for his services and this year, it will be the legendary musician Ustaad Nusrat Fateh Ali Khan, who will be honored at the prestigious Pakistan Achievement Awards in London.
According to sources, besides Ahmed Ali Butt and Ayesha Sana hosting, Pakistani celebrities attending the event in December will also include Noor Bukhari, Aijazz Aslam, Sawera Nadeem, Neelam Muneer, Faakhir and the Raga Boyz amongst others.
The 9th Pakistan Achievement Awards is all set to happen on the 10th December 2017. at the Millennium Gloucester Hotel in London and with all of our favourite stars attending. Let's hope Pakistan gets to celebrate its talent not only on a few but major international platforms as well.