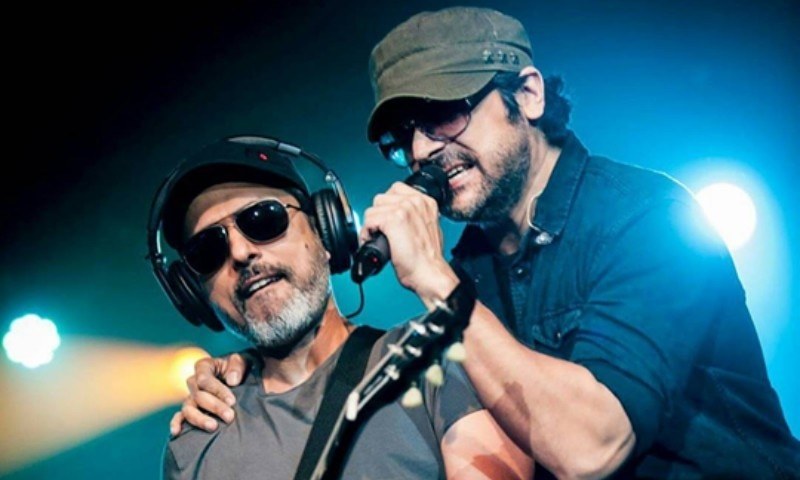 "Coke Studio Season 10 will be the last season produced by Strings," the group shares on their social media

Having grown up listening to Strings, it came as a pleasant news when Bilal Maqsood and Faisal Kapadia from the band, announced that they were to take over Coke Studio after Rohail Hyatt decided to bid goodbye to the show after season 6.
Four seasons into Coke Studio, Strings gave us some amazing songs that we've been humming ever since then. Not only that, but both Bilal Maqsood and Faisal Kapadia have produced and mentored musicians that have become icons today through the platform of Coke Studio. In fact the duo has given an integral part of their talents to the show.
And now, 10 seasons into the show, Strings too have decided to part ways with the much loved musical platform.
Even though shocked, one wonders if the decision has come in after the terrible amount of criticism that season 10 of Coke Studio has received from social media warriors and others; despite the fact that a few songs managed to hit the bar including the likes of Ali Hamza, Ali Sethi and Waqar Ehsin's Tinak Dhin , Sajjad Ali and Zaw Ali's Ronay Na Diya as well as Humera Arshad's, Rachel Viccaji and Aima Baig's Kattay Na Katay, not to forget Farhan Saeed's and QB's Lathay Di Chaddar.
Read : Coke Studio is back with another season
But as they say, all good things must come to an end, it seems Strings too have decided to say goodbye to the platform and move ahead in life and music. In a social media statement shared by the band, Faisal Kapadia and Bilal Maqsood both mentioned, "Coke Studio Season 10 will be the last season produced by Strings."
Adding further to the statement, the stars shared, "It has been a fantastic journey for us over the course of 4 seasons and we are grateful to have had the opportunity to learn and share our work with all of you".
With Bilal Maqsood and Faisal Kapadia passionate about music and their band Strings (for which they even left their jobs to pursue full time) and 2018 marking 30 years of the band next year we're wondering if the duo has planned something bigger with their musical ventures.
"2018 will mark 30 years of Strings and we are super excited to celebrate with all of you so stay tuned for more updates as we embark on yet another exciting chapter in our musical journey," read the post.
Strings are acclaimed for their stringed rhythms and melodious, poetic songs written by Anwar Maqsood, who has been writing lyrics for the band since its re-formation. With Kapadia as the lead vocalist it is Bilal Maqsood who composes, plays the guitar and occasionally sings too.
But with the duo saying good bye to Coke Studio we cant help but listen to their last track on the season 10 finale Us Rah Par where they sang along with Ali Zafar and Ali Hamza as a tribute to the late Junaid Jamshed which was a treat to watch.
With Strings bidding goodbye, rumors are circulating about Rohail Hyatt coming back on board for Coke Studio's next season but who knows what will happen next. But yes, one thing is for sure, Strings take along thousands of memories and a lot of hearts with their exit from Coke Studio. Here's to a great chapter ending and a new one beginning.