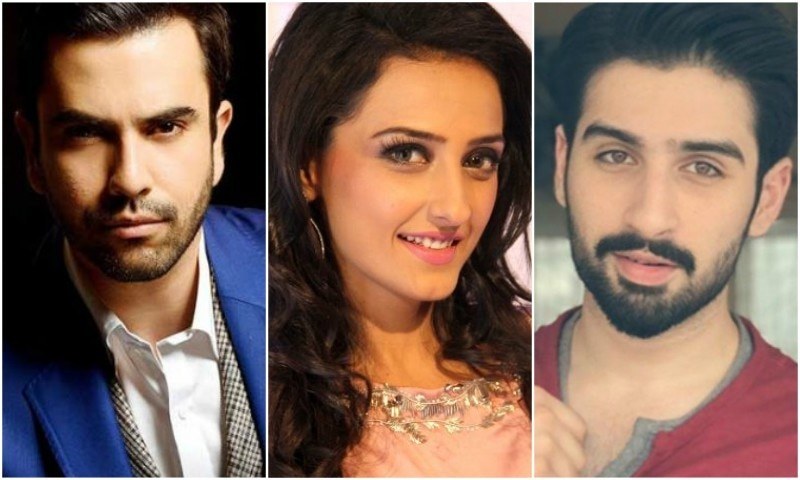 "My character is of a doctor who is an authoritative guy but with a bit of wit," revealed Junaid Khan to HIP.
There is never a dull moment in the drama industry as the producers and channels are busy in churning out one drama after another. And mind you, the quality is not being compromised as well. With a bundle of such talented actors in the industry, it's a great turn out of dramas every year for the Pakistani drama industry.
So, here comes another story, with more amazing actors on board. Starring Momal Sheikh in the lead, alongside the handsome and brooding Junaid Khan and the versatile Muneeb Butt, Silsilay is all set to rock your screens, soon from Geo TV.
"The drama is titled Silsilay and is being directed by Syed Wajahat Hussain while the script is penned down by Samra Bukhari," tells an excited Momal Sheikh to HIP.
Read:Caught up in the world of Bollywood: Momal Sheikh talks Happy Bhaag Jayegi
Explaining what made her say yes to the drama, Momal adds, "Well basically it was the story, the director and of course the amazing cast including Junaid Khan, Muneeb Butt and Hiba in it. Not to forget the producer Erum Binte Shahid."
The handsome Junaid Khan also had something to add to the information, just for you guys. "The play is for Geo Entertainment. I have worked with Wajahat Hussain when I did Marzi which was also for Geo and because Wajahat has a shooting style which is unique and he is one of those few directors who works very hard with the actors on character development, so I had to say yes to this one," he tells HIP.
Talking further about the story, Khan said, " The script is quite family oriented, like how Sun Yara was where even the smallest relationship in a family was explained in detail. Just like that, this script also has the relatable quality in it. As far as the story is concerned, you will get to see how my character's mother supports her sister and her daughters out of one which is being played by Momal. Now how do our characters end up being linked or whether they are linked or not, that you'll have to wait for. Also how does Muneeb fit in the scene, that'll be an interesting revelation as well."
Quite excited already, we loved Junaid Khan as Talal in Sun Yara and are quite happy to hear that in Silsilay he is playing a doctor again.
"My character is that of a doctor who has come in after studying from abroad. He's a decent yet authoritative guy but with a bit of wit who enjoys a warm relationship with his mother played by Seemi Raheal," adds Junaid.
With a great cast, an amazing director and a writer whose Bholi Bano was quite successful, we look forward to watching Junaid Khan, Momal Sheikh and Muneeb Butt spread their magic on the small screen with Silsilay.