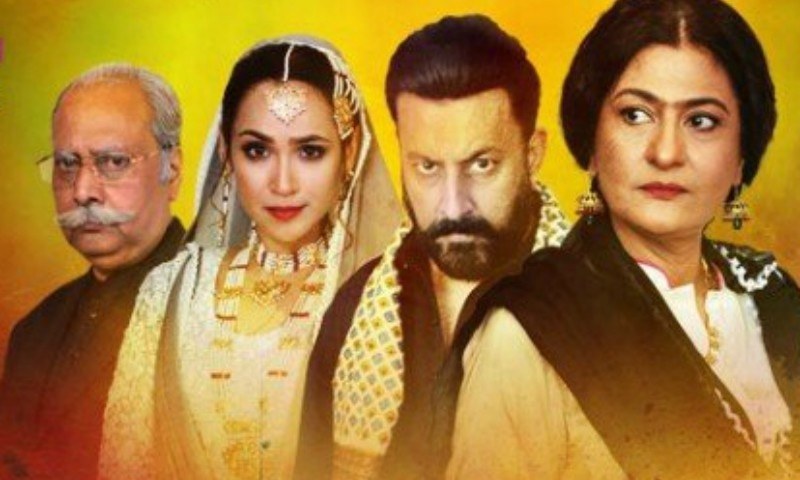 With most of the original cast back, it is Saba Hameed and Faryal Mehmood who shine brightest in every scene.
It was around 15 years ago when Khalil ur Rehman Qamar took the television screen by storm with his play Landa Bazar. With brilliant story line as well as acting by all its stars, including Ali Zafar and Babar Ali, the team at A plus entertainment decided to dazzle the present generation by making a sequel to Landa Bazar called Laal Ishq. And with us being fans of the original play, we were thrilled yet scared to see how intriguing the plot would be this time around since sequels at times don't do that well. But with four episodes down, we can safely say that Laal Ishq is not to be missed at any cost!
Directed by Delaware Malik and the script penned down by Khalil ur Rehman Qamar, the duo are back yet again with this one and because they understand the story plus each other so well, watching the play is a delight.
Having begun four weeks back, a lot seems to have happened, as it revolves around the present generation of the two families (the children of Baali and Mehar Hukum) who have come from studying abroad and have fallen in love with one another. But their elders are opposed to them getting married, which is why Mahi (Faryal Mehmood) is often seen upset and trying to knock some sense in her brother and mothers head not to base their every waking moment on taking revenge from Baali for her father's murder.
Read: 'Lal Ishq' the sequel to the iconic TV serial 'Landa Bazaar' to air on A-Plus
With Baali (Babar Ali) now free after having served his time in jail for killing Mehar Hukum (Mahi's father), it is Mehar Hukum's widow Mehr in Nisa (Saba Pervaiz) who trains her son Punaar to avenge his fathers death, something which does not go down too well with Mahi but since she belongs to a family which runs on emotions she has to step back.
A bit along the lines of Romeo and Juliet, Mahi is in love with Jajjis (Kashif Mehmood's) son, Farhad (Arslan Idrees) who happens to be Baali's son but was raised by Jajji when he had gone to jail. Due to their family's history they can never be one, but Farhad is determined to not live without Mahi and hence decides to go and see her mother, the powerful Mehr in Nisa. With her liking the confidence in Farhad, it was nice to see her not behave like a woman raging with revenge but instead she met him very nicely and proved that she still believes in the power of love. She tells Farhad that that it was up to Mahi's Dada (Waseem Abbas) to decide what to do and if he agrees then he can expect a call from them to come and meet everyone properly.
Now with Farhad's dad Jajji not fully aware of how Mahi was the daughter of Mehar Hukum we have a feeling that next week will be full of heartbreaks for the young kids as Landa Bazar is a tale of love, loss and revenge which has been narrated so well that one never gets bored.
With Baali looking for his kids, Babar Ali is in great form and his acting is superb as well as that of Saba Hameed and Waseem Abbas but the surprise package last night was Faryal Mehmood who bought such charm to the screen which was much needed for a play like this. Her natural acting plus on point emotions has left us highly impressed and we look forward to seeing more work from the star soon.
So if you loved Landa Bazar then do give Laal Ishq a watch every Saturday at 8 pm only on A Plus Entertainment.