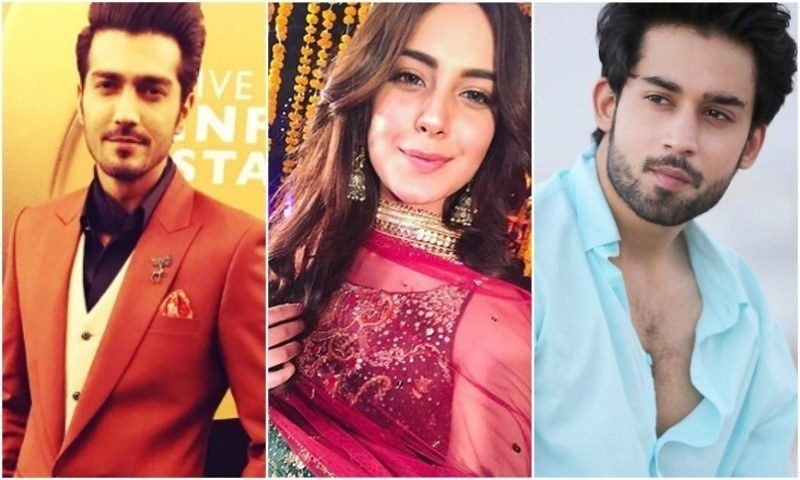 With Shahzad Sheikh, Iqra Aziz & Bilal Abbas Khan in the lead we look forward to the drama unfolding soon
Iqra Aziz, Shahzad Sheikh and Bilal Abbas Khan are three of the top leading actors these days. Each one of them has been quite busy in their respective projects, appearing in one brilliant play after another.
We recently brought you the news that the trio were gearing up to appear together in a iDream Entertainment's drama called Qurban and now it seems the time is drawing near. The drama is scheduled to launch around late November and teasers have already started doing rounds on the channel.
Read: Iqra Aziz ,Shahzad Sheikh and Bilal Abbas Khan pair up for Qurban on ARY Digital
Although rather brief, the teaser shows how the writer Zafar Mairaj has another winner on his hands. Zafar Mairaj has already created magic with his plays like Muqabil , Dumpukht and Munkir to name a few and this time he's bringing up a very different topic revolving around two nikkahs. The storyline has us hooked already!
How, why, what and where? The answers will follow soon as the drama starts airing. But until then, one thing we're sure about, Qurban is going to be a certain winner.
After his superb performance in O Rangreza Bilal Abbas Khan has matured as an actor; his stint in Qurban can be a solid proof, only if it's in a teaser for now. Bilal's character Shahmeer looks like a guy who is passionate and values his pride very much.
But how does Shahmeer, who goes to work and belongs to a nice family, end up at a darbar homeless is what has left us quite intrigued with the plot of this interesting play. The suspense has us hooked and we want to see Qurban asap to find out what is the story between Shameer and Heer played by Iqra Aziz who upon seeing him in the state is shocked too!
With Shahzad Sheikh as one of the main leads as well, Heer is caught between two men, where one adores her while Shahzad's character look like he has no interest in her and is involved somewhere else.
So with the teasers offering an interesting insight in to the play, the direction by Ahmed Bhatti looks sleek and close to perfection. Stay tuned to this space while we bring you more updated on this amazing drama, about to be launched soon!
Read : Bilal Abbas Khan collaborates with Zafar Mairaj for new project 'Qurban'