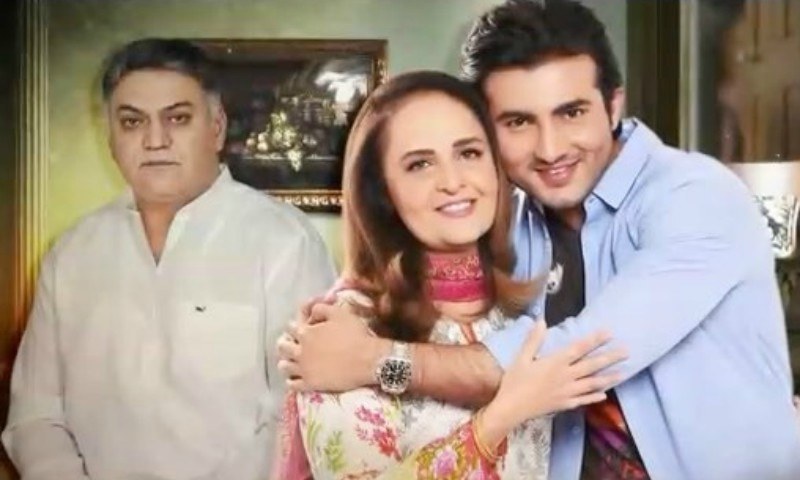 Unexpected twists and turns, an amazing star cast and a well written story is the highlight of Begangi on Aplus

Families, love, betrayals, such topics have been dealt a million times on television before but its the writer's perspective that sets the story apart each time. This time its the amazing tale of Rahat Jabeen that has made Begangi a delight to watch; going strong even after 13 episodes down.
Directed by Amin Iqbal, the drama has a multi star cast comprising of Asif Raza Mir, Hina Bayat, Shahroz Sabzwari, Huma Nawab, Durdana Butt, Aaqdas Waseem, Zia Ghurchani and Nausheen Ahmed to name a few in pivotal roles .
Read : Shahroz Sabzwari gears up for 'Begangi' with director Amin Iqbal
Umar, played by Shahroz Sabzwari, has a very fun loving brother called Zaid ( Aqdas Waseem) and the two share a brilliant bond with one another. Umar thinks of Abdul Rehman (Asif Raza Mir) as his father but he also notices a certain reservation in his tone while he addresses him. Time and again Umar has also noticed that this reservation is not there when Abdul Rehman addresses Zaid and he wonders about the reason behind it.
The story progresses and we discover that Umar is in fact not Abdul Rehman's son but rather a step son as his mother Asma (Hina Bayat) remarried while he was still young. Now if you are thinking that Abdul Rehman is a cruel father then that's not the case at all. Abdul Rehman has given everything to Umar just like Zaid, but it is his mother, played wonderfully by Durdana Butt, who has a issue with Umar's anger and this at times affects Abdul Rehman as well.
With Asma loving Umar and Zaid equally, the plot enters a twist when Umar finds out the truth and begins to see why all these years he was treated so badly by his so called uncle and aunt ( Zia Ghurchani and Huma Nawab) which at times would even result in Abdul Rehman doubting Umar on few things.
Now where you have all this family drama going on, right there is also a love story between Umar and his cousin Maheen (Nausheen Ahmed) but since her father cannot stand Umar, she is engaged to Zaid!
One of the most fun and loving character in Begangi happens to be Zaid, who is not at all in love with Maheen. Zaid has tried his best to tell his family members that he won't marry Maheen at any cost since she is his brother's love interest and he can't betray him but none pay heed.
Umar is heartbroken and he leaves home. He questions Abdul Rehman about why he couldn't convince his brother to give Maheen's hand in marriage to her but Abdul Rehman doesn't bother about Umar at all and so he is left to leave home. Umar asks his mother to choose between him or her husband and leaves her in a mess.
Now one thing which we like about Asma is that she is not a typical mother but a woman who does not base her decisions on emotions but deals with things quite practically once she is over the shock of any particular news.
So with Umar loosing all hope as his mother chose her husband over him, he comes to take Maheen away and with her all ready to elope, it is Asma who stops her by making her realize what a mistake she will be making and how her actions will destroy her parents. Maheen agrees and Umar hates his mother even more.
But once again Rahat Jabeen gives the plot another twist by showing that Umar has committed suicide. However, after a few episodes we discover that he is very much alive. With a tiff between Abdul Rahman and Asma because she does not want Zaid married to Maheen, he tells her to leave his house too!
An upset Asma leaves everything and goes away in the middle of the night but she so far has not gone to Umar's. Where has Asma been an entire night and will Abdul Rehman feel guilty and bring her back as well, and what will become of Maheen is what we cant wait to see in the next episode of Begangi while it airs every Wednesday at 8 pm only on A Plus.
Coming towards the actors, we love both Asif Raza Mir and Hina Bayat as even today they bring so much charm onto the screen that they can give any young actors a run for their money. Shahroz Sabzwari as Umar is a delight to watch as his is a very emotional yet a head strong character. With Nausheen Ahmed and Aqdas Waseem also doing a great job in their specific roles Begangi is in fact a drama well made.
So if you want to see something which has a different spin on family, love and betrayal then do give Begangi a watch and you won't be disappointed.