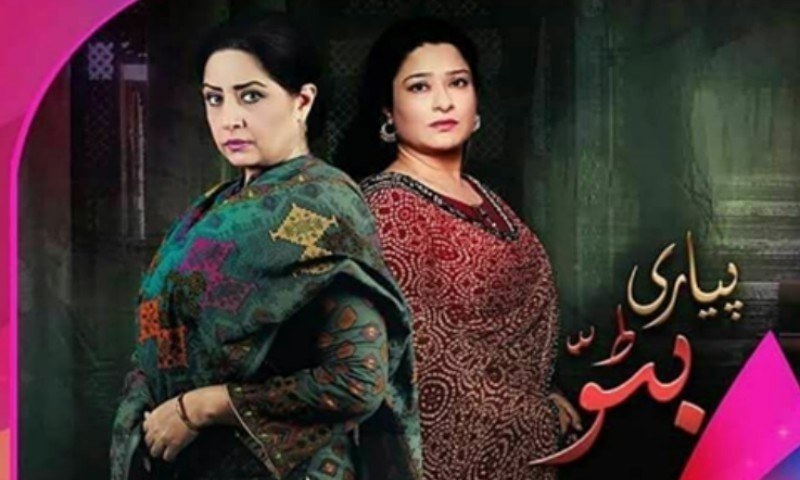 A bit too sober as a story, it is the acting by Sania Saeed and Atiqa Odho which makes us want to watch the drama.
One often gets bored watching the same kind of stories on television everyday. In times like these, a very unqiue story that captures the essence of life comes around as a refreshing breather. Piyari Bitto the story of Shakira, who adores her niece called Bitto, is one such play indeed.
Shakira is so attached to her niece that she can practically sense whenever the girl is sad or in need of help. With Sania Saeed, Atiqa Odho and Saniya Shamshad in the lead Piyari Bitto is a very unique yet intense story to watch. However within recent weeks and no developments the drama is slowly loosing its charm. In fact Piyari Bitto seems to be drowning in depression making us hope Bitto comes out of her misery soon.
Shakira (Sania Saeed) and Mehboob have just got married but even then Shakira is not at ease. She is constantly worried about Bitto and her dead brother's voice ,who told her to look after his daughter Bitto (Saniya Shamshad) as his wife Sakina (played brilliantly by Atiqa Odho) was very selfish and not at all bothered about their daughter, keeps haunting her every single minute of the day.
Sakina, after her husbands death, has gotten involved with a younger man who is as clever as her and has eyes on the innocent Bitto. Sakina doesn't pay heed to the dilemma, and its Shakira who comes to Bitto's rescue. Sakina does nothing but creates havoc in everyone's life. She takes Bitto away from Shakira, only to have her married off to a rich, retard, in return for a large sum of money.
Read: Piyari Bitto episode 5 review: Powerful women dominate the play
Now what sort of a mother does that?! Sajji Gul with his story, has decided to showthat mothers like Sakina do exist who misguide their children to fulfill their own desires.
Even on her wedding, Shakira is adamant to take Bitto along but because Bitto cannot see her, she gets married and yet cannot stop thinking about her niece. And now poor Bitto is trapped with a fierce mother in law, a retarded husband and a very selfish mother.
Lets see what the future has in store for innocent Bitto who may just be found by her Phoopu Shakira, something which we hope to see in its next episode.
As a viewer we feel Bitto's plight but the track has become much too depressing. We need some lighthearted moments in the play too but as it seems there isn't enough room left for some jokes with Bitto crying and Shakira having panic attacks for her niece.
However, with Sania Saeed and Atiqa Odho in the play and not to forget Farah Shah, the truth is we watch the drama for two reasons. One for these fine actresses and secondly because its a Sajji Gul story and this writer always has something very different going up his sleeve.