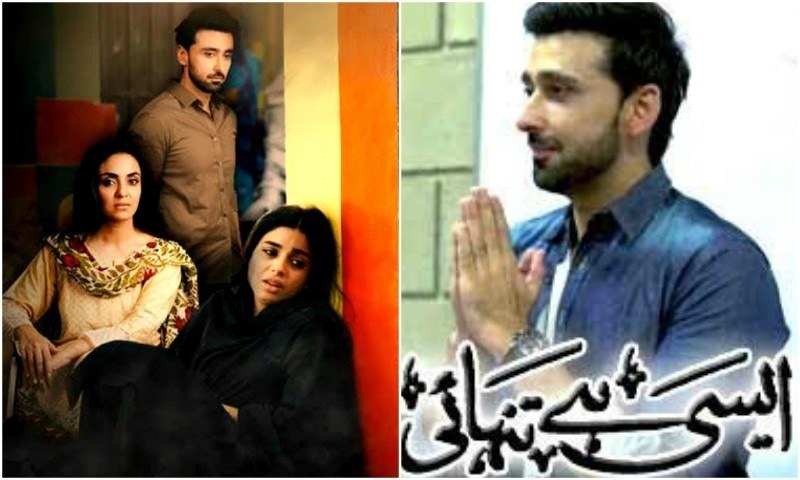 Aisi Hai Tanhai began on a riveting note. The opening sequences were intense. While Sonya Hussyn was seen writhing in pain and agongy, possibly poisoned, Saba Hamid's voice in the background talked about trust, honor, right, wrong and sacrifice.
The serial's first episode revolved around introducing the characters and the complexities of their lives. Hamza (Sami Khan) is the cool-dude university student who loves Pakeezah (Sonya Hussyn). Pakeeza and Kinza (Nadia Khan) are two daughters of a widowed mother, Khadijah (Saba Hamid), who is not only strict but orthodox when it comes to raising her two daughters without a father and getting the elder one married off without a glitch.
Sonya Hussyn returns to the small screen in and as 'Pakeeza'
Rimsha (Sadia Ghaffar) plays Pakeezah and Hamza's best friend but she will definitely play a major role in bringing major misconceptions in their relationship.
Amidst different plots, the story focuses on Pakeezah and Hamza's love story. The issue kicks off when the group of friends discuss the suicide of one of the other girls who got betryaed by her boyfriend after sharing something objectionable pictures with her. Hamza is upset that Pakeezah wouldn't trust him with such a thing and they have a fight where Pakeezah is then forced by her love for Hamza to give him a proof.
However things take a bad turn when Pakeezah is shot and her phone is snatched. The duo realizes that there has been a grave mistake and things need to settle down. Hamza assures Pakeezah's mother that he'll bring his parents along.
But that isn't a happy ending for both of them. The snatchers actually spread Pakeezah's objectionable pictures in her phone on social media and everybody gets a look at them. Kinza's in laws want to break off the marriage because of the same issue. Hamza is distraught because his mother wouldn't agree to his marriage with Pakeezah. Pakeezah considers Hamza her enemy for bringing her to such a point in life.
Khadijah is angry and heartbroken and she tells Pakeezah off claiming this wouldn't have happened had Pakeezah have the sense to put things off before they got to such a point. The teasers for the upcoming epidose show how Pakeezah's mother tell her that when honor is compromised, death is the only option. Let's see what happens next in Aisi Hai Tanhai, only on ARY Digital, Wednesdays at 8pm.
Aisi Hai Tanhai has amazing actors on board who have hooked us from the very first episodes. Sami Khan looks gorgeous as the new age romeo, Hamza, while Sonya Hussyn impressed us massively right from the beginning. Nadia Khan is a pro and she shows she's still got it even if she is returning to the screens after 17 long years. And by the way, she looks gorgeous on screen and we did think this deserved a special mention!
Nadia Khan is ready for her much awaited comeback on TV!
We like Saba Hamid with her acting but we wished if she could have played the role of a supporting mother rather than a strict, typical one. Mohsin Ali's story and the fact that it has been inspired by real life will give you goosebumps. Badar Mehmood's direction is on point. Two weeks into its running and we have a winner on our hands with Aisi Hai Tanhai!