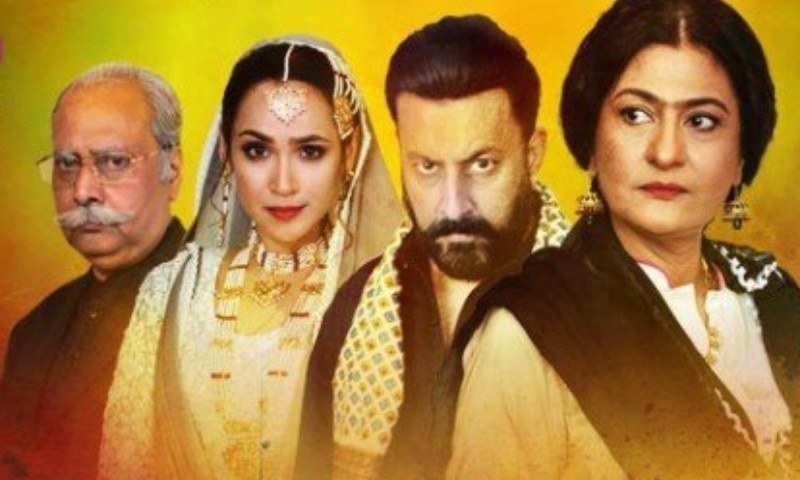 With Jajji all set to meet Mahi, what remains to be seen is whether she and Farhad will live happily ever after or not.
Our Saturday nights aren't complete without having watched the latest episode of Laal Ishq, a sequel to the 15 year old play Landa Bazaar which was a super hit at its time. Focusing on the present generation who wants revenge even now, the play, six episodes down, does not disappoint. It has a gripping story line penned down by Khalil ur Rehman Qamar, who is a genius at writing human emotions beautifully. With yet another exciting episode coming to an end last night, we cant wait to see whether Mahi and Farhad will really end up getting married!
Now why we are so interested in this question is because nobody knows that Farhad is not Jajji's (Kashif Mehmood) son but rather Baalis' (Babar Ali), the man who killed Mahi's (Faryal Mehmood) father and left Mehrunisa (Saba Hameed) a widow! With Jajji having taken care of the kids while Baali was in jail, he never tells them the truth but with Baali free, he is in search of his children as well as of Jajji.
Read : Four episodes down, 'Laal Ishq' rises above expectations
But coming back to the topic of Mahi and Farhad in love, their only supporter so far is Mahi's mother Mehrunisa, who was left quite impressed by Farhad's confidence when he met her. But with Jajji initially saying a no upon finding out whose daughter she is, the one thing which we loved was how Farhad does not rebel but instead makes himself understand that for a love that's six months old, he could not hurt his father who has loved him unconditionally all his life.
So with a great message embedded in the episode we realised how true this was as for their loves sake youngsters these days are willing to sacrifice their relationship with their parents but not Farhad, as he is a person who is willing to put his happiness aside for the sake of his father.
The episode was quite an emotional one, hence having us glued to our screens. Another thing which we like about this play is the fact that situations are not dragged and incorporated in such a way by the director Dilawar Malik that you cant help but lose yourself in the plot for that one hour.
With Jajji realising that he was being unfair as his son was a gem, he agrees to meet Mahi and take a formal proposal but with him having spoken to Mehrunisa and saying he would drop by later in the day we have a feeling that Laal Ishq is about to become even more intense as Baali is leaving no stone unturned in search of his kids.
Talking about the actors on board then we have to say that we are highly impressed by Faryal Mehmood, Kashif Mehmood and Saba Hameed, who have gotten in to the skins of their character so well that we forget that these roles are fictional. It is because of these three actors that we tune in every week to see what is happening in the drama.
So if you are in the mood to see a play based on love and revenge plus superb acting, then do watch Laal Ishq every Saturday at 8 pm only on A Plus TV.