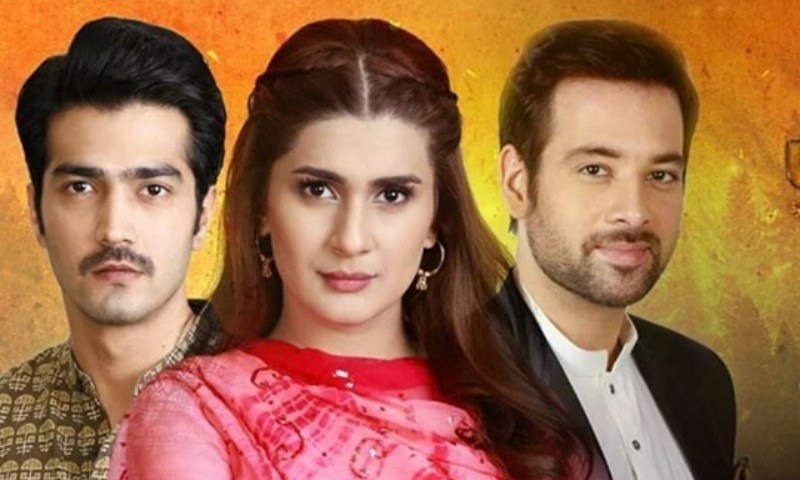 Beside Ushna Shah and Imran Ashraf who are simply amazing, last night Shahzad Sheikh impressed us immensely as well!

We are in love with Qaisera Hayat's style of writing as she pens down such heart wrenching dialogues that even after having watched her plays we are left pondering about what we just viewed. And that is why week after week we tune in to see Alif Allah aur Insaan just so we can learn something valuable about life from the story.
This week we loved the conversation between Azra Mansoor and Mikaal Zulfiqar where she reminds her son Shahzaib the words of Baba Jee (Qavi Khan) who said that the biggest work which any human can do is to help his fellow beings.
Very true, these days it is rare to find plays which along with an interesting story line also succeed in expanding our knowledge and in our eyes Alif Allah aur Insaan does exactly that. This one is a wonderful project which has been directed very well by Ahson Talish as he focuses on every tiny detail in the frame and has given each character importance, which is not easy as the story revolves around many.
Read:Alif Allah aur Insaan episode 29 review: Unnecessarily dragged!
So what went on in last night's episode? Lets fill you in.
Basit (Shahzad Sheikh) and Nazneen (Kubra Khan) have parted ways as despite being together he could never go near her because the guilt inside him always reminded Basit of the fact that he hurt Shahzaib and took his wife away from him. With Nazneen calling Basit a weakling, she decides to leave without any remorse. But then again Nazneen never did think about anyone except herself. However, Basit, having lost his parents because of his actions, is left trying to deal with all that has happened so far and with him wanting to meet Shahzaib, we really want to see what will the two talk about?
Moving away from Basit, Reena aka Rani (Ushna Shah) now has a daughter whom she calls Pakeezah but does not want her to grow up in the brothel house hence she leaves him at Nawazish Ali's ( Farhan Ali Agha) house where his wife picks her but upon seeing this he makes an excuse and takes her back to Reena saying how he wants nothing to do with her and does not consider the little girl his daughter.
Read:Alif Allah aur Insaan: Ushna Shah steals the show
With Reena reaching a pact with him that she would never interfere in his life again as he promises to keep her financially stable, Reena is about to start a new life letting go of her arrogance.
Zimmel (Nimra Khan) it seems, has every single guy after her and it is Shaheer (Omer Shahzad) who has loved her from the beginning so will he finally propose to her is what we hope to see next week.
If we talk about actors beside Ushna Shah and Imran Ashraf who are simply amazing, last night Shahzad Sheikh impressed us immensely with his very natural portrayal of Basit , a guy who is not bad but due to the circumstances he has become bad in everyone's eyes. This year we are also glad to see Shahzad pick out roles which are well suited for him hence making him a sought after actor these days.
Even though we do feel that now would be a good time to wrap up Alif Allah aur Insaan, we still cant help but tune in every Tuesday at 8 pm on Hum TV to see what life has in store for all especially Basit and Nazneen.