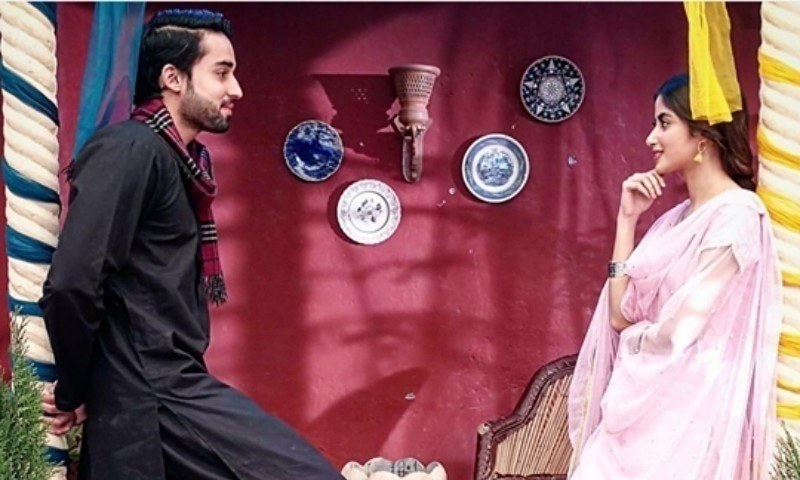 Ever since O Rangreza began we have been watching it with keen interest. Firstly its a Saji Gul script which guarantees the story will be different, secondly it has Sajal Aly and Bilal Abbas Khan in the lead and is a Kashif Nisar direction who is known to make dramas with a very artistic touch. So with a great combination as well as an emotional story line, O Rangreza has been a lot of fun.
Although overall entertaining, we have to admit that a few episodes in the past week were disappointing. We felt the inclusion of Tipu and Meena was not needed but last night's episode proved otherwise. The drama is back to being interesting making us hooking us to it once again.
The past month in particular saw some amazing plays go on air but O Rangreza is very different from the rest as it has a story line which is fresh combined with superb acting from everyone; especially Nauman Ejaz as the self-centred poet Khayyam who falls in love with an actress called Sonya Jehan (Sana Fakhar) and leaves his wife Mumtaz (Irsa Ghazal) and children Sassi (Sajal Aly) and Tipu (Hamza Firdous) for her.
Read: HIP Reviews: 'O Rangreza' has the potential to become a chartbuster
With Khayyam now living in a lavish house with Sonia, he is realizing that this move of his was not really as intelligent as he thought of it. The duo are living in a house which was gifted to Sonya by one of her admirers and he often comes to visit her as well. With Khayyam eager to get a place of his own, he talks to Mumtaz to sell the haveli so he can get some money and buy two flats one for her and other for Sonya.
Besides Khayyam wanting to sweet talk Mumtaz in to selling the home for his benefit solely, here is what went on in the latest episode of O Rangreza.
One thing which we were very glad to see was Mumtaz having a voice. She never stopped her husband but when it came to taking away the roof from her children's head, she became strong and told Khayyam to leave her alone which for a woman like Mumtaz was something new but rather good. We are loving Mumtaz's new found confidence which we wish was there when Khayyam decided to leave her for Sonya.
Read : Have you heard Sajal Aly singing in O Rangreza yet?
With Mumtaz representing majority of the women who never utter a word in front of their husbands, her courage gives us a hint that the play is about to become even more intriguing as she pays Sonya a visit and tells her to stop filling Khayyam's head to sell the house and it was here where she openly tells Sonya how for the first time she wished ill for her.
Coming back to Sassi and Qasim well even there we saw Qasim become aggressive towards her as he gives a tight slap across her face to stop her from meeting Wajih (Omair Rana). Although a slap was not necessary and firmness in his voice should have been enough, later on Qasim realizes his behavior was not good and out of shame he burns his hand which makes the angry Sassi melt.
So what will happen between the two is what we cant wait to see, as well as what lengths will Khayyam go to make sure Mumtaz does what he wants!
If we talk about the acting bit first then this is one of Bilal's best works till date as he plays a character who looks strong physically but has a heart of gold and melts when in front of the love of his life Sassi. A maturity is seen in Bilal's work here which is something we are enjoying from him lately as can also be seen in Qurban. Nauman Ejaz is one of those actors who need no praise as he stand apart from the rest. Isra Ghazal has brought about a strong development in her character and we are now liking her strong role. Sajal Aly is charming as always and shows that there is more to Sassi then just being spoilt as she stands up for Meena against her brother Tipu who was holding her against her will.
So watch O Rangreza every Friday at 8 pm only on Hum TV as this is a wonderfully directed play with some very strong performances.