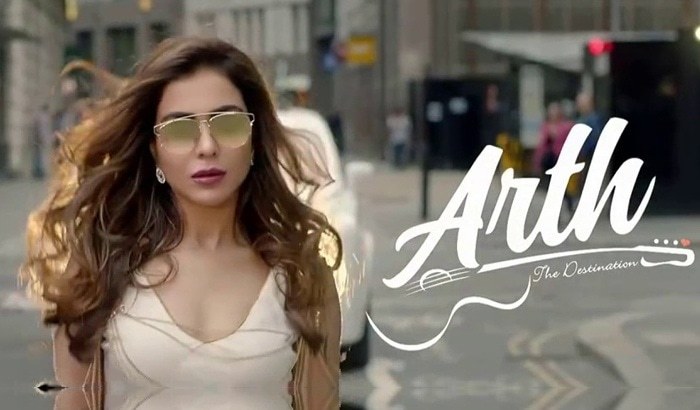 The famous behavioural scientist and world renowned motivational speaker Steve Maraboli, once said "There is nothing more rare, nor more beautiful, than a woman being unapologetically herself; comfortable in her perfect imperfection. To me, that is the true essence of beauty."
When I had the wonderful opportunity to interview the legendary Shaan, the director and writer of Arth, he said that the 1st person who came to my mind as I wrote this particular character that Humaima plays in Arth was Humaima Malik herself. Well, I know I am factually incorrect, but I somehow feel that Mr Maraboli also had Humaima Malik in mind when he wrote down the above-mentioned quote.
"This script and the director gave me leverage to find different things in my character. This is the sort of creative freedom, an actor can really enjoy. I don't think, any girl has gone so glamorous on screen," shared Humaima when I asked her what she liked about Arth script. The actress added that she was particularly delighted by the liberty given to her by Shaan in nurturing this character. "I was told by the director, that this role had been developed keeping me in mind. I was playing myself in some ways. My own expressions, my own emotions are a part of this character. Plus, Shaan made me look like a superstar even though I don't consider myself one," added Humaima.
Humaima Malick & Uzma Hassan's first look teasers from 'Arth' revealed!
As for Shaan, the director, he couldn't be happier with how the character has played out in the film. "I wanted Humaima to be real. It was a difficult role to play out. There was one side of her, which was you know 'being a superstar' and everything that comes with it. While at the same time, I wanted to depict a dark side to it. The anxieties that come along with any relationship. It's like she was a self-assured star on the outside, while being a little girl inside. A girl who wants to be in love, who desires for companionship without compromise. Humaima has done everything I asked her for and more," shared Shaan about how Humaima breathed life in her character.
I asked Humaima if she considered the Pakistani audiences especially to be ready for such a film. "Cinema is really independent, a larger than life medium. You can't really predict or prepare. Film makers have the liberty to play around with subjects. We have put in our best efforts and as an actress this is what I can do. Ever since, I have signed up for Arth, each day has assured me that yes, this film will resonate with the audiences, people will see themselves in the roles we play in the movie. On the face of it, it may look a very glamorous character but the fears, the insecurities, the darkness is there and very apparent. So yes, I think the audience will absolutely love it," shared the diva.
We already have seen Humaima, the superstar in the song "Aadat". She is certain that all the songs in the movie are going to be big hits. The songs will touch the hearts of the audiences.
When I was assigned this interview by my editor, I was super excited. Not just because it was a superstar of our industry, but a superstar who has no PR filter in her interviews. She is unapologetically herself. This is a badge she wears proudly. I referred to one of her recent interviews, and said that perhaps that is one of the most brutally honest interviews I have ever read from a Pakistani celebrity. 'That I am! I am brutally honest with my work and about my opinions," Humaima responded with a sense of assertiveness in her tone.
Humaima Malick will play the role of Sanjay Dutt's wife in 'Sher'
What next, any female driven films? Almost before I had finished my question, she responded 'oh absolutely, I would love to do something like that. Play a boxer, or dancer. I have it in me to play a moulvi ke beti and a super glamorous star. Never have I watered the stereotypical image of a Pakistan women. I don't want to cry on screen just because I am a woman and the audiences are conditioned to see women like that. I am a character actress not just a heroine. Even my movie in India, my role was very significant to the plot," Humaima answered proudly.
So, no typical masala movie heroine roles for you then, I dared to ask in reference to her recent interview?
"Do you remember the heroines of these masala films? There are 3-4 heroines, who are there for the sake of it. Do you remember any one except the lead hero? I don't want to be part of such films. And thankfully now when film makers come to me with scripts, they come with the plot, not just caricature roles"
That was enough honesty for the day. If for nothing watch Arth to see the difference between the strong minded moulvi ke beti in Bol and fragile superstar that Humaima transitions into with ease in Arth.