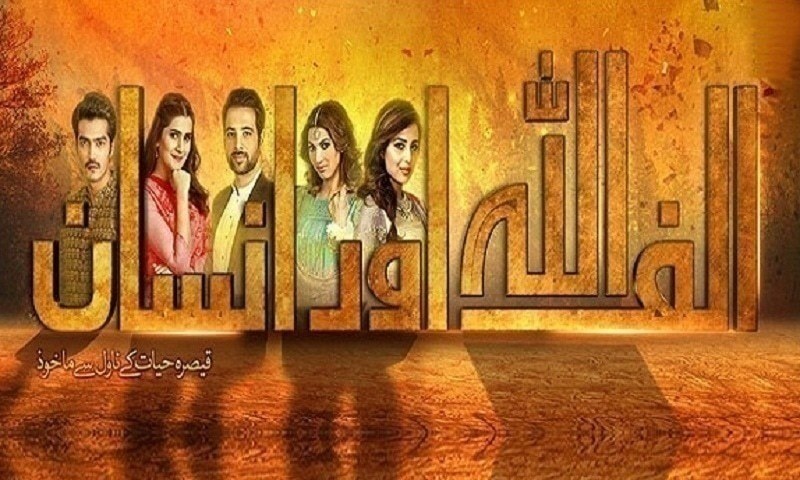 With Zimmel wanting to marry Arsalan and Shazaib becoming the next Baba Jee, we hope the play wraps up very soon!
Ever since Alif Allah aur Insaan began we have been watching it with a lot of enthusiasm as it had a brilliant story penned down by Qaisera Hayat. But 33 episodes down one can't help but feel that now would be a perfect time to wrap up the drama as the story is not as interesting as it was when the play first began.
Watching last night's episode which focused more on Zimmel and Arsalan's relationship, characters which we still feel were not needed in the drama as Nazneen, Basit and Shahzaib as well as Rani and Shammo were intriguing enough to keep the plot intense, the drama has started to lose its appeal for us.
Direction by Ahson Talish is flawless and one enjoys watching this play for him too as each shot of his is unique and has a very artistic touch to it. But what happens when the story drags? Even good direction becomes boring.
So coming back to last night's episode let us tell you what all took place in case you missed it.
Read : Alif Allah aur Insaan episode 32 review: You'll find all answers about life in this one
Shaheer (Omar Shahzad) is excited that his parents are going to Zimmel's (Nimra Khan) with a proposal. Little does he know that she has already thought about marrying Arsalan, who is a rather a simple boy, not even financially stable, but who somehow has managed to steal her heart. With her parents not happy with the decision, Zimmel is determined to marry him but how fruitful will her decision be, will only be revealed with time.
Basit (Shahzad Sheikh) has left Nazneen (Kubra Khan) and she is staying with a friend whose brother is interested in her now. She might be quite a favorite amongst men in the drama but as a viewer one never feels sorry for her as Nazneen comes across as a person who is very selfish and never considers the feelings of others. And even now, instead of regret or remorse, Nazneen is just so busy in her own world only.
Read : Alif Allah aur Insaan episode 21 review: Basit is now in close proximity of Nazneen and Shahzeb
But one thing which we were not expecting was to see Shahzaib walk along the road of Baba Jee as we have a feeling after his death Shahzaib will become the latest Shah Jee as the villagers are now putting their trust in him.
So this being the only interesting thing which happened in the latest episode of Alif Allah aur Insaan we hope that next week brings a closure for all the characters as it is always a good idea to wrap up the play while the audiences are still interested.
Despite the story being dragged, all the actors are doing a splendid job especially Mikaal Zulfiqar as Shahzaib, a character who has undergone many emotional changes right in front of us.
So if you want to see how it will all end for Alif Allah aur Insaan then do keep watching it every Tuesday at 8 pm only on Hum TV.