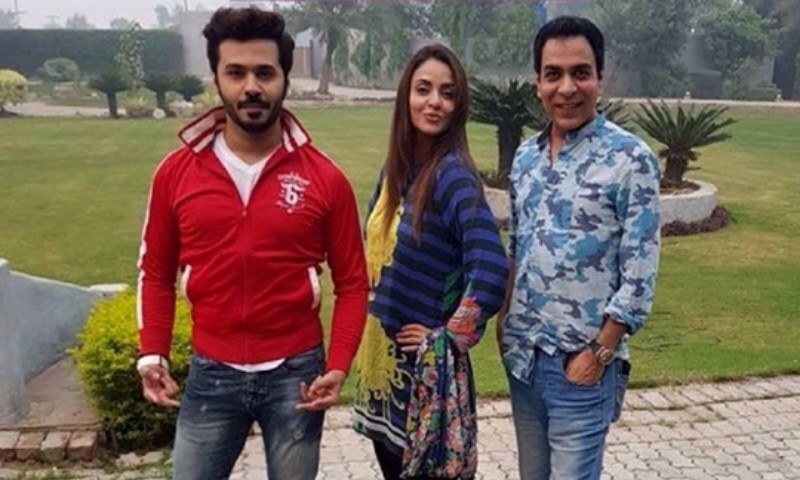 The duo will be seen soon in Fahim Burney's next called Tum Kaisi Aurat Ho where Saim will don a negative character.

This year has been amazing for the multi-talented Saim Ali, who besides being a fashion designer, a model and a host, is now focusing on acting and succeeding too. Last year Saim Ali appeared as the main lead in a theatrical play called Dilwale in Malaysia and then moved onto playing a poor Kashmiri boy who falls in love with a Malaysian girl in a telefim. Now where we are very happy about his international fame we are even more happy to see him back on the screen in the country with a play called Tum Kaisi Aurat Ho. And to top it all off, Saim Ali will be starring alongside the sensational Nadia Khan who has returned to acting after a hiatus of 17 years.
With us having come across a picture of the duo along with the director Fahim Burney, we had to catch up with Saim and know what everything was all about. The play starts airing most probably by the end of December and as we thought, Saim had a lot to share. Read : Saim Ali Shooting A Telefilm In Malaysia Called Kashmiri Babu
Starting with his role first, here is what Saim revealed to HIP;
"There is only one negative character in the play and that is being played by me. His name is Ahmed Shuja and he is very fashionable and a dominant guy as well as spoilt. He goes crazy over Nadia Khan's character and wants to trap her in to signing his next project."
With us already liking the sound of it, we asked Saim what was it like working with Nadia. And naturally Saim was all praises for the powerhouse performer Nadia is, " It has been lovely working with Nadia. Although it was a bit difficult in the beginning as I know her very well off camera but on camera she is a different person altogether."
Adding further Saim mentioned, "My first scene was not done well and I had to give like 20 plus takes to get it right. Nadia gave me a lecture and then it really helped me to get out of that uncomfortable zone which I had with her during my first ever scene."
Talking about his experience more Saim confessed how it had been working on the drama with the lady. "Nadia is a very positive person, a great support. In fact she is a live wire on the set and rehearses scenes beforehand. The second scene which I shot with her was absolutely fantastic and I'm sure it's going to be loved by the audience as well. The scene has Nadia slapping me while we begin to fight at a party. That particualr scene was so intense that I received a round of applause on the sets and a Well Done Saim from Nadia herself.
Besides Saim and Nadia the drama also stars Ali Josh , Faisal Rehman and Saniya Shamshad to name a few. With the OST for Tum Kaisi Aurat Ho by Wali Hamid Ali Khan, we cant wait to see Saim Ali spread his magic on the small screen soon!