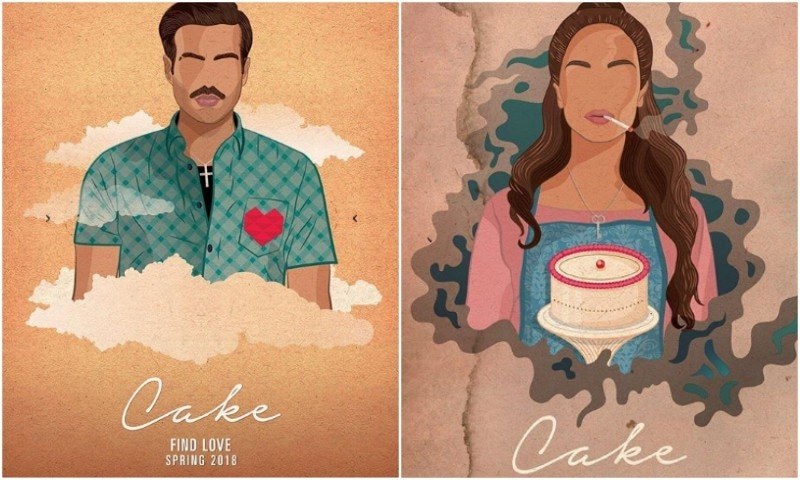 The Aaminah Sheikh, Sanam Saeed and Adnan Malik starrer sure has us intrigued with its very different character reveal
Cake The Film has been the talk of the town lately, however owing to the hype created by upcoming movies that hit cinema screens soon, Cake somewhat moved onto a second priority for cinema enthusiasts and news mongers. However, this Aamina Sheikh, Sanam Saeed and Adnan Malik starrer has certainly made a comeback in news rounds and this time with a big bang.
Cake, A Story Of Love And Loss
Characters have been revealed from the film and by the looks of it, Cake looks rather interesting, very much different and intriguing to the core! Aamina Sheikh will be seen playing Zareen, a badass baker as she says on her character poster. With a cake in her hands and a cigarette in her mouth
Adnan Malik is playing Romeo in Cake, and from the looks of his character poster, his will perhaps be a street inspired, much smart guy named Romeo. But until the teaser or trailer is released, all we can do is guess.
Along with Adnan, Sanam and Aamina, Beo Zafar and Mohammad Ahmed will be seen in rather interesting characters in the movie as well.
While we wait for Sanam Saeed's character to be revealed with more curiosity than ever, we'd also like to tell you that this many layered, Asim Abbasi directorial is all set for a Spring 2018 release. With only a couple of months in hand, we're certain we'll soon be greeted by an amazing trailer for Cake The Film, that'll definitely satisfy our curiosity about what its all about.