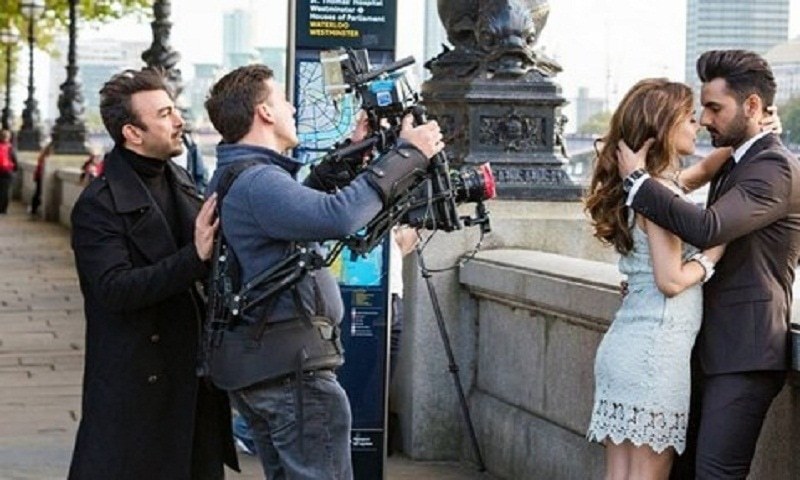 You expect the usual frenzy just before the 'stars' make an entry. Their managers and staff, precede them, trying to manage everything to the dot. Whilst in the middle of those efforts, the leading cast from Arth walks in. There is Shaan. Exuding a sense of calm or as people with proper Urdu vocab would say 'therao'. That feeling, continues throughout this interview. There is a well thought out reason of every move he makes. From the signing of an Oscar winning colorist to the promotion of the film, everything is well thought out. There is a master plan being followed here. Or at least he makes it look that way.
With a remake, there is an obvious way to ease in an interview, why this script I queried. "Well, Mahesh Bhatt's film was a beautiful art film based on a really relevant story. It's been more than 30 years and I felt this story could be commercialized and retold. We took inspiration from Arth and made a lot of changes to make it a commercial film." said a thoughtful Shaan.
The teaser for 'Arth' leaves you wanting more!
At the same time, for someone of Shaan's stature, who has done so many films, how did this story appeal to him, I wondered. While answering another question, a revealing comment was made. "It was a challenging script. Because action stories are easier to sell and my image as an actor is of an action star. But I opted for a love story. A love story that shows very real complexities of life." On a personal level, this may have felt a challenging film to execute. Perhaps, this motivated him to go this way.
So, what was the process of acquiring the rights of the film from the celebrated Indian filmmaker, Mahesh Bhatt? "He was very kind. I actually wanted to buy the rights, but Bhatt Sahab said, Shaan if you are making this film, I won't charge a penny. He had a greater cause in mind. He wanted to make it the 1st Indo-Pak collaboration project. He gave all his blessing and put up no restrictions." There certainly is admiration on a personal level between Bhatt Sahab and Shaan.
Plus, the Khuda kay Liye star feels that the audiences have been belittled somewhat by the quality of Pakistani films. "Films in recent years have been a bit immature. One cannot hide behind the idea that the audience isn't ready. Our audiences consume all the complex stories made by Bollywood and Hollywood. Why should we not challenge ourselves?" Again, to me this sounded more a personal challenge to change the course of Pakistani cinema rather than a dig at other films.
So as the director, how satisfied is he with the performances? Usually filmmakers and actors are very guarded about particular scenes in the film but Shaan wasn't. He illustrates a scene between Humaima and Mohib, where Mohib is being pressurized to reveal his affair to his wife. It was like a fan talking about his favorite scene from their beloved film. He termed Uzma Hassan's, role as 'the Girl next door' which she played to perfection. He seemed contended with the approach he had taken with his cast and with what they had delivered.
Unapologetically herself;Humaima Malik talks about Arth & more
"Music is the backbone of the film" added Shan. He says we have used musical scenes in the film, so the plot moves along with the songs. Another aspect I wanted touch upon was hiring of Oscar winning colorist Garry Madison. Shaan was full of praise for the man. "Gary was lovely. It always great to work with people who know their job. We were lucky to have Gary and he was kind enough to be part of a Pakistani film. While he was doing his work, I could just relax a bit. Because I was certain that he'd do a wonderful job. I learned a lot from him about color grading."
The legend of Pakistan cinema predicts that "during various phases of the movie, people will go oh wow that's me or I have faced this situation in my life. It's not a super hero film, it's a super emotional film." This emotional reliability with the audience, possibly is the most apparent unique selling point of the movie. So, what does Shaan expects from his fans? "For the past 25 years, this nation has loved me, for which I am indebted. I expect them to support the film. Give us an opportunity to entertain you. The avenue of film has to be there for the audiences. It is actually for everyone to enjoy. We can share this joy and our love for film making and viewing together." This seems another major reason, he decided to take up this challenge. The safer option could have been going for another Action film. But with this film, Shaan treads a new path for Pakistani cinema.
Anymore films that defy this general expectation of him? "On Eid Zarar is coming out. Its an action film. I plan a soft romantic film after that, which we probably will shoot in Scotland. I'll take a break from the action genre. But I need to take a clean break for a bit. Wearing multiple hats with Arth has taken a lot of out of me." If there was any mental tiredness, it didn't show during this interview or his enthusiasm and passion about the film, is providing adrenaline for this extensive promotional campaign.
I had one non Arth question for him. I think everyone would agree, that there is no one better than Shaan to comment on the film industry having been through the thick and thin of it. "Well, producers need to branch out a hell lot more. The pie must get bigger. Currently, producers are making intellectual decisions and commissioning movies to only a few teams. This needs to change if the industry has to grow. Producers and financiers shouldn't meddle in the intellectual and story telling of any movie." I wonder, if Arth's success will open up new avenues for Pakistani film producers and they'd start investing in diverse subjects.
But the fate of the movie is unlikely to distract Shaan of his journey. He has chalked out a plan for himself. A plan to break new ground and kick start the post revival era of the Pakistani film industry. Arth seems to have got off an remarkable start.