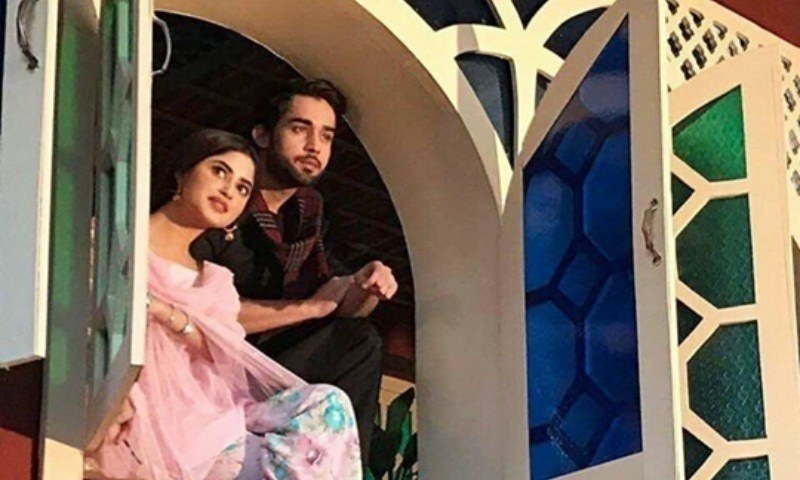 Saji Gul has another masterpiece in his hands with O Rangreza and direction by Kashif Nisar is a cherry on top.
Watching plays is our favourite thing to do every evening as these days every channel has something very interesting to offer. And where we have seen love stories and family feuds done again and again in the same manner, there comes a drama like O Rangreza with its interesting take on love, life and relationships.
O Rangreza has a very artistic feel to it and the credit for that goes to the director Kashif Nisar who is known to make each of his serial unique with his special touch. So 21 episodes down, O Rangreza continues to be an amazing play, one that has us hooked to itself for sure.
Now why do we say this? Well because last night's episode proved the fact that if you hurt someone, at some point in time you do end up paying for it too. Khayyam (Nauman Ejaz) left his family for the actress Sonya Jehan (Sana Fakhar) and now the once pretty and prominent star is suffering from half paralysis and blanks out within minutes which has cost her career and Khayyam is now her full time nurse.
Seeing Sonya's condition one can't help but feel for Mummo (Irsa Ghazal) who did nothing to stop her husband from living with her and never even insulted the actress but accepted everything with a heavy heart and moved on. Perhaps this is life, being fair to her. So when Mummo finds out what is happening with Sonia and how Khayyam is left to look after her, her reaction is going to be priceless as uptill now, nothing can be predicted about the two's relationship.
On the other hand Sassi (Sajal Aly) is still adamant on becoming an actress but with Meena (Sonia Mishal) having been approached for a project and she having done it, Sassi decides to stay away from Meena. However, Meena realizes that all Sassi wants is to be famous and tells her how she has a project lined up for her.
Read : O Rangreza episode 19 review: The drama is back to being interesting!
But when Wajih (Omair Rana) shatters Sassi's dreams once again by saying how she is too middle class for everything, Sassi has now set her mind to becoming ultra modern to prove him wrong.
Besides dreaming of becoming a star, Sassi is also dead against her brother Tipu (Hamza Firdous) marrying a very young girl. On the day of the nikkah, it is Mummo who shocks us by giving Sassi some medicines to put her to sleep so she doesn't create a scene at the wedding. However, Qasim (Bilal Abbas Khan) discovers what has happened to Sassi and takes her to the hospital in time to save her. Mummo is shocked to find out that the medicines could have claimed her daughter's life and she is now upset about it.
Read : Rangreza episode 8 review: Will Sassi's complicated personality ever be understood?
So next week's episode is not to be missed as we can't wait to watch Sassi's reaction upon finding out what Mummo did or will Qasim not tell her anything?
We love Saji Gul's story and his style of writing but we still feel there was no need to include characters like Meena and Tipu as the main leads are already very interesting. Nauman Ejaz is one of our favorites along with Irsa Ghazal, as they are actors who can adapt to any role given to them with such ease. Bilal Abbas Khan and Sajal Aly share an amazing on screen chemistry and we hope after this they do sign more plays together too.
So still on our must watch list don't forget to see O Rangreza every Friday at 8 pm only on Hum TV.