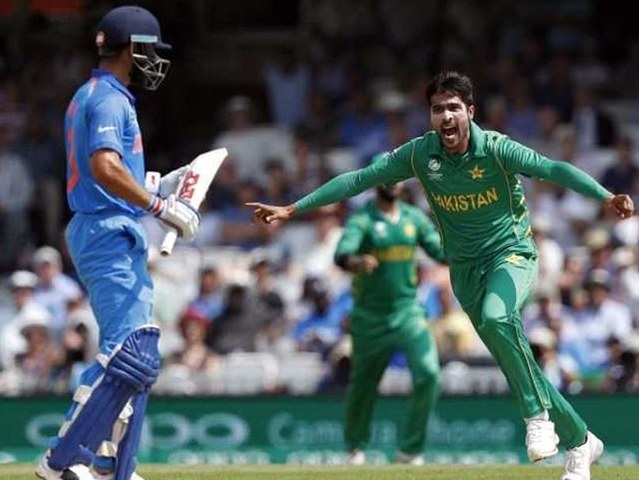 Bowling performance of the year: Mohammad Amir vs India, Champions Trophy Final

"What a delivery, left arm around the wicket, Alan Lamb has been cleaned up. Perhaps, so too England."
A line, a poetic one at that for any Pakistani cricket fan. The words of the immortal Richie Benaud, are engrained in our minds as Wasim Akram slayed the English middle order. 25 years later another global win another fabulous line was delivered. This time by Nasser Hussain.
"In the air gone! Not that important! He's gone the next ball. Brilliant from Amir! Pakistan cricket at its best — one minute down, next minute up!"
Pakistan cricket has seen more downs than ups in the last few years. I don't need to list its problems down again. Many started to question the fan interest in the sports. Really unthinkable a few years ago. So, Pakistan cricket needed this moment. Mohammad Amir midway through his match clinching spell, gave Pakistan fans a new lease of life. A spell that perhaps can prove a pivotal point in shaping future cricket in Pakistan.
Moments like these is why fathers and mothers, give their sons and daughters a bat or ball. It is why fans wake up at odd hours of the night to see their team play. It is why teenagers, toil hard with the sun beating down. It is what Amir would have dreamt of while sitting silently in during his jail time. You dream of performing at the big stage. You dream of getting the biggest scalp. To do it, twice in 2 balls was a feat not many have achieved so far in the over 100 years of cricket.
I could harp on about the quality of the balls, the match situation, the master that is Kohli, and the whole redemption for Mohammad Amir. But all of it has been said already. I just want to highlight on a larger scheme of things, how this wicket was required, how this victory has made impossible, possible. A win for the underdog, a win for cricket as Michael Atherton so aptly put it.
This victory shines brighter than 1992 and 2009
Often sports is given a meaning and magnitude which it doesn't really deserve. But this spell was really more than cricket. It was so much more than just 3 wickets for 16 runs. It brought back belief that there is hope at the end of the day, there is light at the end of the tunnel. There is redemption for Amir, there is rejoicing for his fans.